Shiru Mia taken out of jail for killing
Musician Bulbul testifies against Ghulam Azam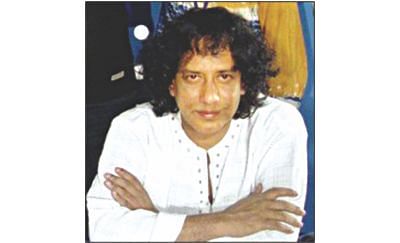 A prosecution witness yesterday told International Crimes Tribunal-1 that before his very eyes the Pakistani army took away Shiru Mia and his son Kamal along with 36 others from Brahmanbaria jail for killing.
Testifying against war crimes accused former Jamaat chief Ghulam Azam, Ahmed Imtiaz Bulbul said he later heard that all 38 had been killed at Koiratola on that November night, which was the night of Eid-ul-Fitr in 1971.
This incident relates to one of the five charges of crimes against humanity against Ghulam Azam.
According to the prosecution, the 38 were tortured and killed on Ghulam Azam's written orders.
Martyred Shiru Miah was a sub-inspector of Mohammadpur Police Station.
Singer and musician Bulbul, who was detained in jail along with the martyrs, yesterday gave a heart-rending description of the farewell as the detainees were taken away.
"Give my lungi and this cigarette butt to my mother," said Bulbul quoting Nazrul, a freedom fighter.
"If you [Bulbul] see a mad woman on the street, she would be my mother," said Bulbul, quoting Kamal, son of Shiru Miah.
Kamal had said this after his father Shiru Miah told him that there would be no one to look after her.
Tribunal Chairman Justice Md Nizamul Huq repeated the description for recording.
Bulbul was scheduled to be killed two days later along with three of his friends, but he managed to flee from the grip of the Pakistani army, albeit temporarily.
The witness was a student of class X at West End High School in 1971. As a freedom fighter he took part in several operations during the Liberation War.
Bulbul and his friends--Manik, Mahbub and Khoka--were caught by the Pakistani army and Razakars (an auxiliary force of the Pakistani army) at Tantar checkpost between Comilla and Brahmanbaria on October 29 when they were going to India to have training.
"They stripped us to our underwear and tortured us for about three hours," he said, adding that they were later taken to the army headquarters in Brahmanbaria where Capt Ali Reza quizzed him.
They were then sent to Brahmanbaria jail where he found many freedom fighters of his age and was introduced to Nazrul, Shiru Miah and Shiru's son Anwar Kamal, Baten and Safiuddin.
A prosecutor then showed him a picture of Shiru Miah and Anwar Kamal.
Bulbul confirmed the picture was of them.
The witness said he came to know that Nazrul, Shiru Miah and Anwar Kamal had been caught at Tantar checkpost two days before he was caught.
"The following day [the day after he was caught] I was taken to the Shanti Committee's office at Dana Miah's house where I saw notorious Peara Miah, who tortured me brutally," he said.
He said an hour later he was sent to an army cell where he was tortured again.
All the detainees were tortured twice every day. Their wounds could not stop bleeding before the next round of torture, Bulbul said.
"On the evening of Eid… all the prisoners were asked to line up," Bulbul said.
Forty people except Bulbul and his friends were taken away.
Bulbul and his friends managed to flee two days later when they were taken to the torture cell. He was again caught at his Dhaka home and taken to the MP Hostel in Tejgaon.
Bulbul was tortured brutally then and sent to Ramna Police Station where 84 others were kept prisoner.
"Every day they took away seven prisoners for killing. When the number came down to 14, the joint forces began their attacks. After that no car came to pick up prisoners," said Bulbul, who got his freedom on December 17.
Shiru Miah's wife and Kamal's mother communicated with Bulbul in 2008 after watching a television programme in which Bulbul narrated the incident of Brahmanbaria jail.
Following his testimony, defence counsel Mizanul Islam cross-examined him for about 10 minutes.
Later, the prosecution produced witness Sheikh Farid Alam.
Farid said during the Liberation War Jamaat men had set up an office on his next door plot at 142 Nakhalpara.
Following his short testimony, the defence declined to cross-examine him.