High wave of Chinese investment in 3-5 yrs
Ambassador Li tells The Daily Star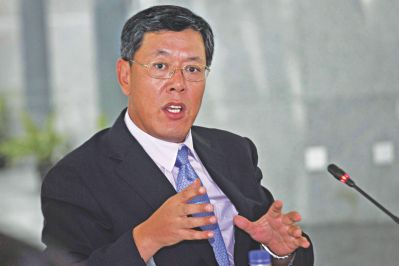 Li Jun
There will be a "high wave" of Chinese investment in Bangladesh in the next three to five years, said Chinese Ambassador to Bangladesh Li Jun yesterday.
Rising labour costs and economic restructuring in China were forcing businesses to relocate to other countries, including Bangladesh, he said.
"Bangladesh has many advantages, especially in human resources. So, it is a very lucrative place for such relocation," said the ambassador at a views exchange meeting at The Daily Star office.
Mahfuz Anam, editor and publisher of the English daily, moderated the discussion.
Li said bilateral trade between the two countries was growing steadily and that whichever parties came to power (the Awami League or the BNP), relations between Dhaka and Beijing would not be affected.
The ambassador said China had rendered zero tariff treatment to 4,762 products from Bangladesh and 32 other least developed countries from July 2010. The number of products for duty-free export would be raised to over 7,000, beginning from the next year.
In addition, China was keen to invest here to encourage exports from Bangladesh, said Li.
According to him, Chinese investments in Bangladesh have been growing and at least 100 companies have so far come here since he arrived in Dhaka in February this year.
Li said China had sought land from the government for a special economic zone meant for Chinese companies.
"We're in talks. We've got some active responses from Bangladesh on the economic zone."
Trade balance between the two countries is heavily tilted in favour of China, according to government statistics.
Bangladesh's export to China was $320 million in fiscal 2011-12, but import was an overwhelming $5.9 billion.
"Why do I promote Chinese investments here?" questioned the top Chinese diplomat at one stage of the discussion.
"We don't want to export to the US or Europe from here. We'll be exporting to China in a bid to have a positive impact on the trade balance," said Li.
He also talked about the deep sea port that Bangladesh has been trying to build with the help of foreign aid, including China's.
The Chittagong port and a would-be deep sea port could be very useful in developing links between Bangladesh and the South East and North Asian countries.
Li also shed light on Bangladesh-Myanmar relations, which according to him were making progress. About Saarc (the South Asian Association for Regional Cooperation), the Chinese ambassador said the regional cooperation could be much stronger than it was at present.
He talked on national, regional and international issues.
It may be noted that this year is very vital for the Chinese as there will be a shift of power to the next generation at the upcoming 18th National Congress.
Li disapproved of United States strategy in dealing with the Asia-Pacific region.
"The US should give focus on peace and economic development rather than militarisation in the Asia-Pacific region," said the Chinese diplomat.
He also spoke of the escalating confrontation between China and Japan over the Diaoyu Islands, known as Senkaku in Japan. Li said the islands belonged to Taiwan, not Japan.
About China-India relations, the diplomat said border issues were separate from the trade and commerce which were exponentially growing between the two Asian economic powers.
Zhang Lei, chief of the political section of the Chinese Embassy in Dhaka, accompanied his boss at the discussion.