A beacon of light for women
80th martyrdom anniversary of Pritilata Waddedar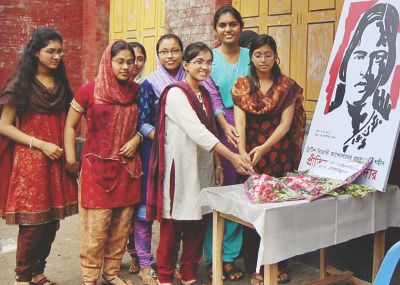 The 80th martyrdom anniversary of the revolutionary during the British colonial times, Pritilata Waddedar, an associate of Master-da Surja Sen and the first Bengali woman to embrace martyrdom, was observed in Barisal on Monday.
Participants and speakers at a programme discussed on her contribution to the battle against oppression and said that the day should be observed with state recognition.
They said the iconic Pritilata would long be remembered for her supreme sacrifice in the movement against British oppression.
Her biography should be included in children's curriculum to imbue the new generation with the patriotic spirit of fighting oppression in society, they said.
Bangladesh Samajtantrik Dal (BSD) organised programmes of placing wreathes at the portrait of Pritilata, discussion, rendition of patriotic songs, recitation of poems, reading letters of Pritilata at Kumar Hall premises of the city.
The programme was presided over by Imran Habib Rumon, district organiser BSD.
Among others, Manisha Chakroborty; Badruddoza Soikat; AK Azad; Akkas Hossain; Rabindranath Roy; leaders of different socio-cultural-political-student-professional organisations, addressed and participated in the programme.
The pioneering Pritilata was a beacon of light for women of this country who has once been confined within four walls, the speakers were of the view.
Pritilata became a symbol of female power, an ideal of the need for gender equality and the ability of women to be an important part of all movements alongside men, they added.
Pritilata, born in Chittagong in 1911, was part of a band of student revolutionaries led by Surja Sen, a teacher revered as 'Master-da'.
In 1932, Surya Sen planned an attack on the Pahartali European Club, which had a sign "Dogs and Indians not allowed" hanging from its main gate.
Pritilata was assigned to lead the attack on the club on September 24, 1932.
The attack was successful but Pritilata, dressed as a man, got trapped just in front of the present-day Pahartali Railway School with bullet injuries, a few yards off the club.
An injured Pritilata then committed suicide by swallowing cyanide to avoid being arrested by the British.
She was a meritorious student at Dr. Khastagir Government Girls' School of Chittagong and passed the matriculation examination with a first division in 1927.
Pritilata continued her education in Eden College, Dhaka in 1929; she passed the Intermediate examinations securing the first place among all the candidates from Dhaka Board.
Two years later, Pritilata graduated in Philosophy with distinction from Bethune College of Kolkata. In the early 1930s, Pritilata joined Master-da Surja Sen's armed resistance movement.