Hirsutism
When females develop facial hair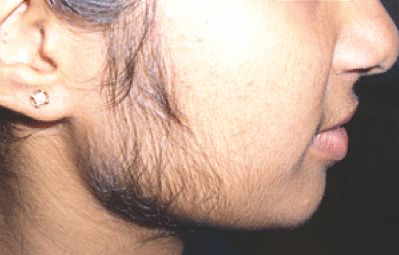 Hirsutism is a condition where women have excess facial and body hair like a man. It is therefore primarily of cosmetic and psychological concern. Many cases of Hirsutism are not severe and have no underlying cause. However, it may be a medical sign of a more serious medical condition in certain cases, especially if it develops well after puberty.
In Hirsutism, females develop male pattern of body hair, sometimes excessive, particularly in locations where they normally do not develop hair during puberty (chest, abdomen, back and face).
About half of women with Hirsutism may have high levels of male sex hormones called androgens. Androgen stimulates hair growth, increase size and intensify the growth and pigmentation of hair. Other symptoms caused by high levels of male hormones include irregular menstrual periods, acne, loss of feminine body shape, deepening voice, male pattern baldness, enlarged clitoris, and enlarged shoulder muscles.
High levels of hormone and Hirsutism can be caused by Polycystic Ovarian Syndrome (PCOS) — a disease in the ovary that may also cause infertility, tumors on the adrenal glands or ovaries, Cushing syndrome (occurs when people take excessive steroid and by certain medications) etc.
In other cases, women with Hirsutism may have normal levels of male hormones. If no underlying condition is found, the cause of Hirsutism is unknown.
Women of European, Middle Eastern, and South Asian ancestry are more likely to develop the condition. Some conditions that cause Hirsutism may be inherited.
If anyone suspects that she might have excess hair in unusual part of her body, she should consult a doctor confirmation. Hirsutism is most cases treatable.
The treatment for Hirsutism depends how severe the problem is and whether there is an underlying cause. For example, if a tumour on the ovaries or adrenal glands is the cause, it may be removed surgically. If no underlying cause is found, a combination of self-care strategies and hair-removal techniques may be used. Psychological support may also help because Hirsutism is often a frustrating and embarrassing condition.
The write up is compiled by Dr Shahjada Selim, Department of Endocrinology and Metabolism in BIRDEM Hospital, Dhaka.
Email: selimshahjada@gmail.com