Destination 'Malaysia'
112 desperados denied sea ride
Detained before boarding engine boat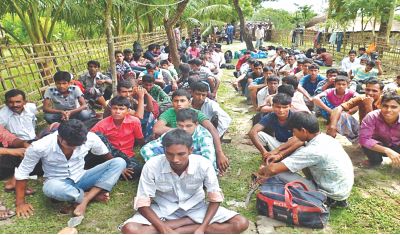 Police in the wee hours of yesterday detained 112 people from Banshkhali upazila in Chittagong while they were boarding an engine boat in a bid to travel to Malaysia illegally.
Nur Hossain Mamun, a sub-inspector of Banshkhali Police Station, said that traffickers assembled the detainees at Chhanua Khal (canal) in the upazila, giving them the assurance of providing jobs in the southeast Asian country.
Law enforcers failed to nab any of the traffickers but detained the boatman Monjur Islam Monu for his alleged involvement in the trafficking.
Monu said that one Imrul hired the boat for Tk 8,000 to go to Kutubdia and he had no knowledge about taking these people to Malaysia.
Traffickers gathered the victims in the upazila from different districts with a commitment of taking them to Malaysia in exchange of Tk 2 lakh. Initially, the gang took Tk 2,000 to Tk 10,000 from each of them, said SI Mamun.
The detainees said that they were first taken to Chittagong en route to Dhaka by buses and trains on Saturday, and then moved to Banshkhali by buses.
After getting information from locals that many unknown people had been gathered near Chhanua Khal, Rezaul Hoque, chairman of Chhanua Union Parishad, informed police of the matter around 2:00am.
Police rushed to the spot around 3:00am. They detained 113 people including boatman Monu and seized the engine boat.
Habibur Rahman, one of the detainees, said that he had paid Tk 2,000 to a broker and committed to pay Tk 2 lakh to him after reaching Malaysia.
"I dreamt of going to Malaysia to become financially solvent. But now I can realise that I have been deceived," said Habibur, who used to work as a night guard at a private company in Dhaka.
"I was supposed to make a phone call to my family after reaching Malaysia and they were supposed to pay Tk 2 lakh to the broker," he said adding, "They told us that we would be taken to Malaysia by ship."
Habibur, however, could not name the broker.
Nurul Kabir, owner of the engine boat, went into hiding soon after police detained 113 people.
Contacted, Ruhul Amin Siddique, assistant superintendent of police (Satkania circle) in Chittagong, said police were conducting drives to nab the traffickers including Imrul.
Apart from the 113 detainees, there were more people on the spot who had been gathered by the traffickers. Sensing presence of police, they managed to flee the scene, he added.
Akhter Hossain, officer-in-charge of Banshkhali Police Station, said Monu would be sued under anti-trafficking law.