Buet pro-VC finally removed
Students ready to attend classes again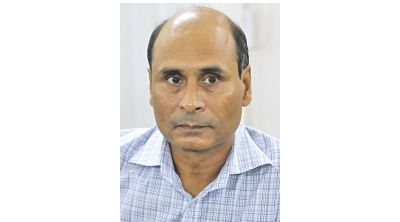 Prof Habibur Rahman
Buet pro-vice chancellor Prof M Habibur Rahman has been removed from his post as part of the education minister's pledges at a meeting with the agitating teachers on Monday last.
The education ministry issued a circular yesterday saying that Prof Rahman had been removed as per the order of President Zillur Rahman, also the chancellor of the university.
From now on, Prof Rahman will perform his duty as a professor in the Civil Engineering Department of Bangladesh University of Engineering and Technology (Buet), said university sources.
After the removal of pro-VC, agitating teachers and students yesterday told The Daily Star they are ready to go back to classes.
"I hope the initiative will bring back the congenial academic atmosphere on the campus, and we want to resume classes immediately. But the decision to recommence the classes depends on the authority," said Prof Ashraful Islam, general secretary of Buet Teachers Association.
Asked about the resumption of classes, Buet VC Prof SM Nazrul Islam told The Daily Star, "I hope to resume classes within next two or three days after a discussion with all."
Sudipta Saha, a final year student of mechanical engineering department and also a front-liner of the movement, said, "We are ready to go back to classes whenever it starts as our demand has been fulfilled."
The teachers and students also thanked the government for removing the pro-VC.
Talking to reporters at his office yesterday afternoon, Education Minister Nurul Islam Nahid hoped that the teachers and students will resume classes today.
"We have done the job as per their (teachers and students) expectation. Now, I hope they will also act as per our expectation," said the minister.
Teachers and students of Buet have been staging agitation since April 7 demanding removal of the university's Vice Chancellor Prof SM Nazrul Islam and his deputy, raising 16 allegations of corruption and irregularities against them.
To end the deadlock at the university, education minister on Monday had pledged to remove the pro-VC and withdraw cases filed against teachers and students.
Although the teachers agreed to return to classes following the assurance, they remained rigid on their demand for removal of the VC.
A 16-member team of the protesting students, accompanied by two teachers, sat with Nahid over their demand on Wednesday.
Later on Friday, the agitating students announced that they will go back to classes only after the fulfilment of all assurances.
However, the implementation of the education minister's other pledge -- withdrawal of cases --was under process.
Sirajul Islam, officer-in-charge of Shahbagh Police Station, told The Daily Star that they had appealed to the court for the withdrawal of the cases filed against the Buet protesters.