Sewage goes straight into Buriganga
Wasa disowns 70pc of total sewage in Dhaka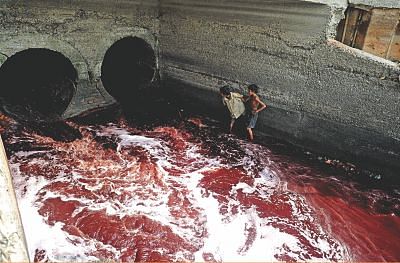 A year after the High Court directed Dhaka Wasa to seal off sewage outlets into the Buriganga, Wasa says 70 percent of the capital's sewage is illegally dumped into the Buriganga.
Dhaka Water Supply and Sewerage Authority (Wasa) said it had no sewage lines of its own that go into the river directly and that its sewage lines go to Pagla Sewage Treatment Plant and the plant dumps the water into the river after treating the sewage.
Taqsem A Khan, managing director of Dhaka Wasa, told The Daily Star that the 70 percent sewage, on which Wasa has no control of, was supposed to be treated by the clients themselves.
He said Dhaka Wasa has Storm Water Drainage Pipe Lines connected to the Buriganga for draining out rain and flood water from the capital.
He also said a section of dishonest people dump waste into those pipes at night and some others have made illegal sewage connections to the pipes which pollute the river.
Taqsem said they are taking appropriate actions against those found dumping waste into the storm water drainage pipes and connecting sewage lines to it.
His office has already informed the High Court of this through a report, he claimed.
Following a writ petition, the High Court on June 1 last year ordered Dhaka Wasa to seal off all sewerage and industrial waste lines linked to the Buriganga within a year. The deadline to implement the directive expired on June.
However, counsel Manzill Murshid, who had moved the petition before the High Court a year ago, was not pleased. He said Wasa was to blame since it was its job to prevent people from making illegal connections to the storm water pipes and the Buriganga.
People who make new buildings in the capital have to have permission from Wasa for making sewerage connections and Wasa is responsible to monitor how those connections are being made, he said.
Manzill said the High Court had also issued some other directives on the authorities concerned for stopping disposal of waste into the Buriganga, but none of those directives was carried out.
He also said he has not got any report from the authorities on compliance of the High Court directives by Wasa.
The counsel said he had no other alternatives to moving a contempt of court petition before the High Court against the authorities if they did not carry out the directives.
Director of Department of Environment (Enforcement) Munir Chowdhury, however, said they were taking all possible measures to stop disposal of waste into the Buriganga to save it from pollution.
"We are launching drives against the industries which are dumping waste into the river, fining them and also directing them to set up effluent treatment plants to save the river," he said.
He added that DoE authorities were organising programmes with the people residing near the banks of the river to create awareness among them to protect the river and its water from pollution.