Quader slaps railway staff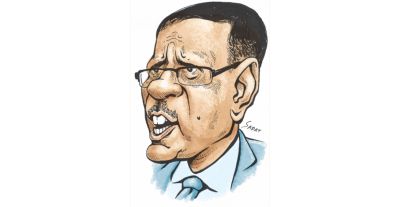 Communications Minster Obaidul Quader yesterday slapped a train attendant in the face at Ishwardi Railway Station for his poor service and irregularities.
The minister also cancelled the lease of Mahananda Express, which operates between Khulna and Chapainawabganj via Rajshahi, finding its compartments in an unhygienic state.
Quader slapped Boloram Das after a passenger had complained that the attendant demanded extra fare from him although he got on the train with a ticket.
The minister visited the railway station around 10:15am on receiving complaints of poor service, Sujit Kumar, divisional traffic officer of the railway west zone, told The Daily Star.
Quader also transferred two railway staffs and suspended one on complaints from passengers of anomalies and poor service, said Md Ferdous Alam, general manager of Bangladesh Railway western zone.
The staffs transferred are Gazi Ferdous Hassan, station master of Chatmohar train station, and Nasima Khanam, ticket master of Ishwardi station, for selling tickets to scalpers. Md Amirul Islam, an estate official of Pakshey Divisional office, received the suspension order for not checking illegal occupation of the railway lands.
The minister said, "A few corrupt officials are destroying the railway sector. Ticket scalping, misappropriation of fuel, stealing of rail sleepers and such other misdeeds are ruining the sector."
"I will take actions against the corrupt and the Anti-Corruption Commission will investigate them," he added.
Later, the minister visited Pakshey divisional rail zone and asked its officials to recover illegally occupied lands within a month, said Kiron Chandra Roy, divisional estate officer (DEO) of the zone.
"Around 140 acre of 1,800 acres of land in Pakshey and Ishwardi zones have been illegally occupied," said the DEO.
Obaidul Quader then visited the Lalon Shah Bridge in Pakshey and asked its officials to submit an enquiry report to his ministry within 15 days on irregularities of the toll plaza.
Yeafesh Osman, state minister for science, information and communication technology, Shamsur Rahman Sharif Dilu, lawmaker from Pabna-4 constituency, and high officials of railway and the communications ministry accompanied the minister during the visit.
Quader's trip ended with a public meeting on the Pabna circuit house premises around noon. In the meeting, the minister said, "Three and a half years of this government has gone. It is time we acted rather than talking."