Buet reopens; no class held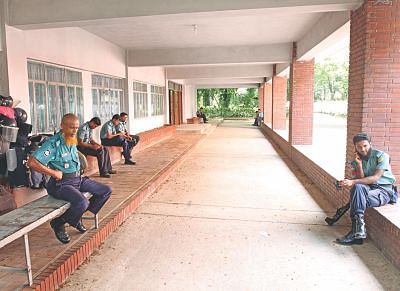 After a 44-day closure, Bangladesh University of Engineering and Technology opened yesterday.
With no classes being held, students were seen hanging about while around 50 agitating teachers were in black T-shirts in symbolic protest against the decision of the vice-chancellor and his deputy not to resign.
Amid protests by teachers, the Buet authorities announced the vacation ahead of Ramadan on July 10, sparking agitation of teachers, latter joined by a number of students.
Pro-VC Prof M Habibur Rahman told The Daily Star that they could not hold classes yesterday as a large number of students could not reach the campus timely due to traffic congestion at many parts of the country.
"The authorities will begin taking classes after the arrival of students."
He also said the academic council will sit on Thursday to finalise the admission test schedule for 2012-13 session.
About the symbolic protest, Prof Ashraful Islam, general secretary of Buet Teachers Association, said the association did not announce any action showing respect to the High Court injunction against demonstration and strike on the campus.
"But if any teacher demonstrates individually, it's his personal matter and the teachers association has no responsibility."
The association started boycotting classes on April 7 demanding removal of Buet VC Prof SM Nazrul Islam and Pro-VC Habibur Rahman on 16 allegations against the two.
The allegations include reconstruction at the Buet administration and appointing the Buet pro-VC and a deputy registrar on political consideration. But terming the allegations baseless, the duo repeatedly claimed the teachers were agitating only to grab power.
In May, agitating teachers went back to the academic activities after the prime minister assured them of solving the problem.
But they again started demonstrating after the authorities shut the university for 44 days. Twenty-five teachers, including deans and department heads, resigned en masse protesting the closure.