Maiming Limon
Police probe finds Rab innocent
Investigation officer secretly submits final report in case filed by victim's mother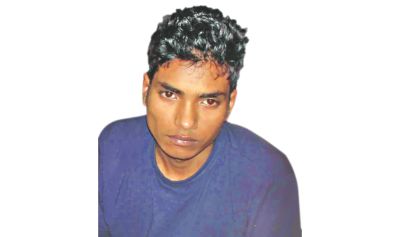 Police have quietly submitted a report to a Jhalakathi court, saying they have found no evidence and witnesses in favour of the attempt-to-murder case filed by the mother of Limon Hossain, a college student maimed by Rab personnel last year.
After receiving the final report on Tuesday, the last working day before Eid, senior judicial magistrate Nusrat Jahan set August 30 for hearing on the report, said lawyers for the complainant.
Limon's mother Henoara Begum filed the case against six Rab men with Rajapur Police Station on April 10 last year.
Police at first refused to record the case. But they eventually registered it following court orders on April 26 that year.
The six accused are Deputy Assistant Director of Crime Prevention Company-1 Lutfor Rahman, Corporal Majaharul Islam, Nayek Moktadir Hossain, Nayek Prahalad Chandra, soldier Kartik Kumar Biswas and Constable Abdul Aziz of Barisal Rab-8.
In the case statement, Henoara said the accused, without caring to verify Limon's identity, shot him in the leg on March 23 while he was bringing cattle back home at Chhaturia village under Rajapur upazila of Jhalakathi.
The Rab team later arrested him.
Limon, who used to work at a brick kiln to pay for his education, had to have his leg amputated from the thigh on March 27, 2011.
He secured bail from the High Court on May 5.
Sub-Inspector Abdul Halim, investigation officer for the case filed by Limon's mother, said he had filed the final report as he found no witnesses and evidence that could prove the allegation.
Meanwhile, the two cases Rab filed against Limon are progressing rather well. The cases -- one under the arms act and the other for obstructing the work of the law enforcers -- were filed the day Limon was shot.
On April 24 last year, Rajapur police submitted a charge sheet in the arms case against Limon and seven others -- Morshed Zamaddar, Zamal, Hatu Mizan, Jahangir, Halim Zamaddar, Labu Zamaddar and Sumon -- all allegedly members of "Mizan-Morshed gang".
After being deferred four times, the date for charge framing has now been set for September 16 this year.
In the obstruction-to-duty case, police submitted the charge sheet against Limon and the seven on July 1 this year. The date for hearing on the acceptance of the charge sheet is September 2.