Highlighting urban architecture
Anisuzzaman wins Grand Award in the Bangkok Triennial International Print and Drawing Exhibition '12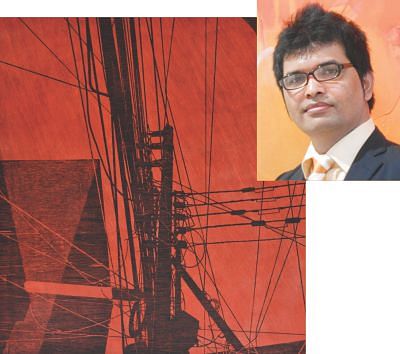 Anisuzzaman is a very well-known printmaker in our country with a number of superb woodcut prints to his credit. Anis' work is a study of urban architecture, construction of human accommodation and a city's structural design. His prints are closely related to geometrical and structural elements where one can easily sense his passion for the language of architecture. He is an Assistant Professor at the Department of Printmaking of the Faculty of Fine Arts, University of Dhaka. However, his woodcut prints are not exclusively architectural; they are also concerned with economical and social issues. In his prints, urban design has been linked to architecture by focusing on the physical form of the city. His works are complete with varied vertical, horizontal and diagonal lines.
The printmaker was recently awarded the prestigious Grand Award in the Bangkok Triennial International Print and Drawing Exhibition in 2012. Printmakers from around 60 countries took part in the exhibition. The organiser handed the certificate, Taka 2 lakh and a trophy to the artist at a recent ceremony. His prints have been preserved at the Royal Barges Museum in Bangkok. He is the first Bangladeshi artist to have received this award.
At the exhibition, his "Kaleidoscopic Complexity" shows a building under construction - with iron rods and steel plates giving it a bare look. The image depicts the steady construction in the big city.
For higher studies, Anis went to Rabindra Bharati University, India and Tama Art University, Japan. The comprehensive studies enriched his style, ideas and innovations. His series on certain themes earned much acclaim and the artist won a Grand Prize at the 13th Asian Art Biennale (Dhaka) in 2008, among other prestigious awards.
Anis revisited his student days at Rabindra Bharati University in India. During that time, the artist focused on the Liberation War particularly tortured women and their sufferings, which came to his works vividly. Besides the topic, he portrayed many owls symbolically. He said, "During that period, fundamentalist movement started in our country ominously. I felt that such activities would dent our spirit and strength. I grew up in a liberal family and I was very confused over the situation. I started to portray many symbolic paintings which made me a little bit relaxed and I received high acclaim for the series.
"After returning from India, I joined the Institute of Fine Arts (now Faculty of Fine Arts, University of Dhaka) as a lecturer in 2001. That time I lived in a rented house in Indira Road. During the time, Bashundhara City was going under construction. On my way to the institute, every single time I was amazed by the architectural view of the building. I took some snaps and drew many images on the mega architecture. I extremely liked the horizontal and vertical structures of the building."
Anis feels that the city is expanding day by day and modern architecture is a very inseparable feature in the city. But the urbanisation seems to him very unplanned and unexpected. Sufficient gas, electricity and water in the city is lacking. Besides modern architecture, other urban facilities should remain. He asserted "As an urban inhabitant, the splendor of architecture always attracts me. Light and shade beautifully play into the inner and outer space of the architecture. My prints are technique oriented and both single and multi blocked."
Anis fully concentrated on woodcut printmaking when he was in Japan (Tama Art University). During the time, he learned how light and shade can give a dramatic effect on prints. Woodcut prints is about technique as much as about imagination, sometimes more about technique, he feels. After going to Japan, he explored varied aspects of woodcut prints.
Over the course of time, Anis has been tirelessly experimenting with lines, forms, spaces, textures, tones and overall shapes and designs. He has gradually turned towards minimalism and has established this as a personal hallmark. This trait enables Anis to symbolically project our social and political dilemmas through his works.