Kanthoshilan brings Syed Shamsul Haq's Uttar Bangsho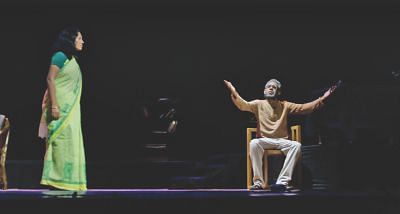 Kanthoshilan, a well known organisation for elocutionists, brings a stage play to the Dhaka audience. The play, Syed Shamsul Haq's "Uttar Bangsho" premiered at the National Theatre Hall, Bangladesh Shilpakala Academy, on August 13. The play, directed by Golam Sarwar, depicts unfulfilled post-war dreams and searches for a way out.
Although Kanthoshilan has earned recognition as a recitation organisation, it has occasionally been producing stage plays over the years. This is the sixth such initiative by the organisation.
The over one-hour play highlights only three characters: a playwright, his daughter and a political leader who is a close friend of the playwright. As there were few performers, the sequences were extended conversations-- either between the playwright and his daughter or the playwright and the leader.
Perhaps Haq wrote the play keeping poetry largely in mind as the dialogues by the performers were significantly poetic and based on literature. As the protagonist is a playwright-author, the conversation between him and his daughter stood out as inspirational and thought provoking.
The ambiance had the appearance of a middle class drawing room [ either of a playwright or writer]. The playwright's only daughter wants to know why her mother committed suicide years earlier. The playwright finds no answer.
The leader requests his friend to write a play for him which will uphold the spirit of the Liberation War and help erase the odds. The frustrated playwright finds no possible way to start anew as he fears dreams have been shattered over the years and questions what else can rouse the masses.
We see a helpless individual in the playwright in both cases-- with his daughter and his friend. Hopes finally come as his daughter, a representative of 'uttar bangho' or the post-war generation leads the way to take the struggle further.
Omar Faruque, Ira Rahman and JM Maruf Siddiqui enacted the roles of the playwright, his daughter and the leader respectively.
A group of performers also took part in a chorus throughout the play, which at times created visuals of torture and atrocities by the Pakistani Army. Masud Rana did the set designing, which more or less reflected the image of a middle class drawing room. Atiqul Islam did the light designing. Tahsinur Rahman's music highlighted selected flute recitations that complemented the soft dialogues.
Syed Shamsul Haq along with Kanthoshilan president and artist Quayyum Chowdhury enjoyed the play along with a large audience.