Humayun Ahmed and Tareque Masud recalled in Faridpur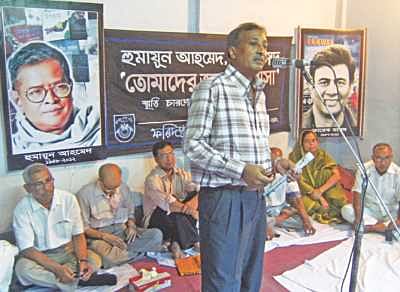 As a mark of respect to recently deceased writer Humayun Ahmed and gifted film director Tareque Masud, Faridpur Sahittya Parishad (FSP) held a memorial meeting on August 9 at their premises in the town.
Acclaimed photographer Nasir Ali Mamun and Sayeed Masud, younger brother of Tareque were present as the chief discussants. Professor M. A Samad presided over the programme.
Language veteran Dr. Noni Gopal Saha, said that both Humayun and Tareque Masud were worthy sons of the country. Their departure has created a vacuum.
Nasir Ali Mamun said, Humayun Ahmed was unparalleled for his contribution to Bengali literature. His unique creations are a milestone for us. The entire nation mourns his untimely departure, he added.
Sayeed Masud said, "It is difficult to accept that Tareque Masud is no more. His creativity as filmmaker was extraordinary. Both Humayun Ahmed and Tareque Masud were trail blazers in their respective art forms," he added.
Professor Altaf Hossain, a close associate of Humayun said, "Humayun Ahmed was a humanitarian which is very rare in society today. "
Among others, veteran journalist Jagodish Chandra Ghosh, professor ABM Sattar, Professor Md . Shajahan, veteran cultural personality Anjoli Bala, Munshi Harun ur Rashid, president Faridpur Sangbadik Sangstha, Mafiz Imam Milon, secretary of FSP Arif Islam, secretary of Faridpur Press club spoke on the occasion.
"Amra Himur Dal" a group of Humayun fans exhibited photographs and books on Ahmed and Masud on the occasion.
Humayun Ahmed, the noted writer and playwright died at Bellevue Hospital in New York City, United States on July 19, 2012 after an 11-month struggle against colorectal cancer.
Meanwhile Tareque met an untimely death caused by a tragic road accident on August 13, 2011 while returning to Dhaka after visiting location of his next film "Kagojer Phul".