Prova's comeback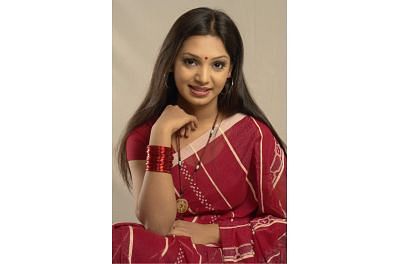 After lying low for sometime, model and actress Prova is busy reviving her career with consistent performances in one-hour plays, tele-films and serials. Prova says acting is her passion and she intends to nurture her love for the medium. The audience will get to see her performances in upcoming plays, she says with confidence.
Like all other actors, Prova is busy with Eid-special plays. She has already finished shooting for five plays, including Salahuddin Lavlu's "Ghashful". Other Eid dramas have been directed by Niaz, Mohon Khan and Ashiq; with the play by Niaz shot in Barisal. Prova also finished shooting for two Eid-special plays by Kaisar Ahmed, back in July.
The actress says that she has done other Eid-plays but is unable to name all of them. However, she is hopeful that the audience will enjoy all the plays, just as much as she had enjoyed acting in them.
Prova's schedule is also currently packed with several serials -- the shootings for which are on daily. Her current works include "Khelowar" by Mostafa Monon, "Kabuliwatnama" by Salahuddin Lavlu and "Makorshar Jaal" by Ali Fida Ekram Tujo.
"Kabuliwatnama" has already been shot in Pubail. Prova plays the role of a rural girl named Poddo, whose family is severely financially straitened. Prova says the director has done brilliant work with the drama.
Prova plays a software engineer in "Khelowar", which was partly shot in the UTC building at the capital's Panthopoth. The rest of the episodes are now being shot in Uttara. Prova adds that the script for the serial is brilliant.
The serial "Makorshar Jaal" will also feature Prova in a unique role. Ekushey TV is currently airing another serial featuring Prova, titled "Ohongkar". The serial has been directed by Kaisar Ahmed. Both the serial and the character played by Prova have gained strong popularity among viewers.
After a long hiatus, Prova has made her comeback with a brilliant performance in "Kadombini Moria Proman Korilo Shey Morey Nai", based on Rabindranath Tagore's story "Jibito O Mrito". Prova plays the eponymous role in the drama.
Outside her work on the small screen, Prova is also going strong in her personal life. She thanks her family and husband for their constant support.