Nancy: Moving ahead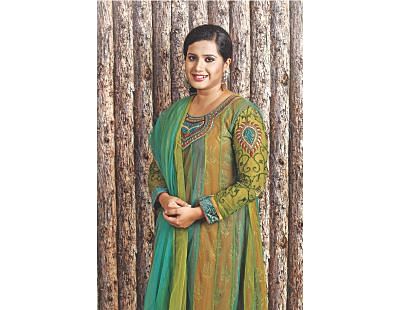 In a short time, Nancy has carved a niche in the music scene with her unique and melodious voice. She has constantly offered fresh tunes to listeners, allowing her to stand way ahead of many of her contemporaries. Nancy recorded the song, "Ami Tomar Moner Bhetor Ekbar Ghure Ashte Chai", two years ago for a movie. Though the film is still in the post-production stage, the song has found its way into the hearts of the masses. Nancy won this year's Meril Prothom Alo Award, besides releasing a new solo album two months ago. The busy singer recently talked to The Daily Star about her meteoric rise to fame and a wide range of subjects:
Are you enjoying your newfound celebrity status?
Nancy: I didn't realise when and how I became a popular singer. In the initial stage, I only used to sing in my own locality. I never imagined heading straight toward a playback career from there. My mother wanted me to be a singer. But it was beyond my imagination that it would happen so quickly. However, I'm enjoying all the changes.
What was your mother's dream?
Nancy: My mother adores Runa Laila and wanted me to become a popular singer like her. It's not possible to reach Runa Laila's level of stardom, but to become an artiste whom listeners adore is more than enough for me.
Did you take music lessons?
Nancy: I took basic music lessons in Netrokona, where I grew up. Initially, I learned Nazrul Sangeet under Sujan Poddar. Then Ustad Gopal Dutta taught me classical music.
Do you still find time to take music lessons?
Nancy: Of course. I'm still learning from Sujan Poddar.
What preparations do you take before recording a song?
Nancy: I don't know about the past, but recent recording procedures depend on the singer's ability to take on new tunes and memorising them. The singer goes to the studio, listens to the tune and delivers it to the microphone. So you could say that the preparation process has gone through a shortcut.
Whose music influences you?
Nancy: I'm not particularly influenced by the music of any singer. I sometimes fancy the tunes or vocal styles of a few. But that's it.
What would you say to claims that "Nancy is nothing without Habib"?
Nancy: Nancy may very well be out-of-order without Habib. I don't take such comments negatively.
What is the response to your latest solo album, which came out two months ago?
Nancy: My songs are usually not entirely commercial in nature, and the recent album has also maintained that trend. A massive campaign was carried out to spread the news about the album. I've received positive feedback, with many praising the work.
You recently ended your marriage…
Nancy: For a long time we lacked a good understanding. We both took the decision to split up after consulting our families.
Are you staying in Netrokona now?
Nancy: Yes. I come to Dhaka only to record songs. It doesn't take much long to commute to and from Netrokona.
When will your next album be released?
Nancy: A duet album, featuring Habib and me, is set to hit the market this Eid. The album is titled "Tumi Shondhar Meghmala". Hopefully this album will also be an audience favourite.