Pre-emptive Strike on Iran
Panetta urges more time for diplomacy
Cracks appear in Israeli leadership over strike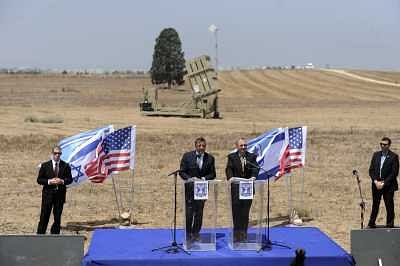 Leon Panetta, the US defence secretary, yesterday urged more time for diplomacy, as the country's prime minister, Binyamin Netanyahu, insisted he would take a decision about whether or when to attack Iran's nuclear facilities amid reports that the Israeli military is opposed to such a move.
In a series of television interviews as Panetta arrived in Tel Aviv from Egypt, Netanyahu said Israel had the right to defend itself. "Things that affect our fate, our very existence, we don't entrust to others not even to our best friends," he said.
Following media reports that senior defence officials, including military chief of staff Benny Gantz and Mossad chief Tamar Pardo, are opposed to early unilateral action, the prime minister said any decision would be taken by the country's political leadership. But he added: "I have not taken a decision."
"In every democracy the decision-maker is the political echelon and the implementer is the professional echelon," he said. "That is how it always was and that is how it always will be."
Gantz denied he was behind the media reports, saying: "I tell the political echelon what I have to say, and they listen." The Israeli military was prepared for a military strike, he said. "As we see it, 'all options are on the table' is not a slogan, it is a working plan and we are doing it."
There is also some speculation that Israel may choose to act ahead of the US elections in early November, especially if Barack Obama's chances of re-election are strengthened.
Panetta's visit he is the fourth senior US administration official to visit Israel in the past few weeks follows that of presumptive Republican presidential candidate Mitt Romney, who pledged the US "will not look away" in the face of an existential threat to Israel from Iran. A senior Romney aide suggested that Romney would back unilateral action taken by Israel.
However, the Pentagon chief yesterday reiterated US calls to "exhaust every effort" before considering military options for confronting Iran over its nuclear programme in top-level talks in Israel.
Speaking alongside Israeli Defence Minister Ehud Barak on a visit to an Iron Dome missile defence battery in the southern port town of Ashkelon, Panetta suggested there was still room for diplomatic manoeuvre.
"We have to exhaust every effort before" taking military action, he said.
"It is my responsibility as secretary of defence to provide the president with a full range of options, including military options should diplomacy fail," he added.
Preventing a nuclear-armed Iran was "a top national security priority" for the administration of US President Barack Obama and in that respect "all options are on the table," he said.
Asked how the Obama administration would react in the event of a unilateral Israeli strike, Panetta would only say: "We respect Israel's sovereignty and independence," without commenting further.
Barak said it was extremely unlikely that sanctions and diplomacy would convince Iran to abandon its nuclear ambitions, which Tehran insists are purely peaceful in nature.
"The probability (of that happening) is extremely low," he remarked. "We've seen sanctions and diplomacy fail in the past."
Speaking ahead of his arrival in Israel, Panetta ruled out talks on "potential attack plans" with the Israelis.
After the Ashkelon visit, Panetta met Netanyahu and President Shimon Peres in Jerusalem.