A tribute to Humayun Ahmed (1948-2012)
The storytelling magician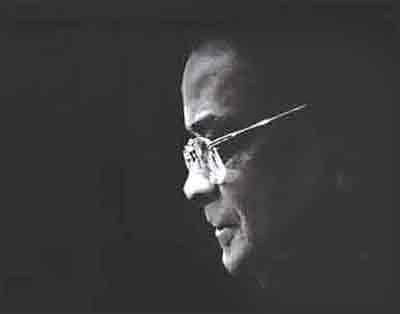 A cultural legend breathed his last on Thursday last week. He was our best known writer. He was a phenomenon. He was only sixty three.
Sunil Ganguly called him more popular than Saratchandra Chatterjee. Shirshendu Mukherjee put him ahead of both Sunil and himself. Syed Manzoorul Islam, our guru and favourite writer, informs us that Humayun Ahmed will live as long as the Bangla language will be there. Yours truly feels that only Kazi Nazrul Islam and Saratchandra
Chatterjee can rival him as popular literary figures. He appeared almost from nowhere to keep our youngsters spell-bound for four decades with his stories, like the Pied Piper of Hamelin.
After a ten-month fight with cancer, the master storyteller breathed his last in a New York hospital. He was recovering well when a post-operation viral infection spread through his body and snatched him away. He was born in Kutubpur, a village of Kendua in Netrakona on November 13, 1948. His mother survives him. His two brothers, Mohammad Zafar Iqbal and Ahsan Habib, are talented personalities. The former is a gifted writer, academician and IT specialist, the latter a cartoonist and writer. Fayzur Rahman Ahmed, his father, was a 1971 martyr. No wonder the magical storyteller never forgot 1971. He also sang the glory of greater Mymensingh, the region which gave birth to him and nursed him. He loved its landscape and the people, the bauls and the beels, the rivers and the haors, the green and golden paddy fields and the folk songs. That he was a master interpreter of middle class emotions is a universal truth now.
His fiction was so popular that at every Ekushey Boimela his books sold the most copies. Our youngsters loved to read him. The characters of his fiction were loved by them. They wished to be Himu and imitated him, wearing yellow punjabis and behaving freely, maybe a little crazily. They loved Himu's free-spirited nature. Himu symbolizes the unconscious desire in us to be free of conventions and norms. They loved Misir Ali. They loved Shubhra. Girls wanted to be like his heroines.
Did he write fiction only? He was our most popular TV dramatist since the eighties. Even
yours truly was addicted to his TV plays. We loved his young magician, the kind bhabi and the half-crazy Asaduzzaman Noor in Ei Shob Dinratri, the half-crazy ( or Pogo-like, if you prefer) Mama, portrayed by Aly Zaker, in his Bohubrihi, Baker Bhai, the goon hero of Kothao Keu Nei, Mirza Shaheb, the fading aristocrat, and his two wives of Ayomoy and many more. There were processions protesting the hanging of Baker Bhai in the last episode of Kothao Keu Nei. The streets were empty when his TV plays were being shown. He made us weep and laugh at will. He entered our hearts effortlessly. His movies were well-made and decent and completely different from the run-of-the-mill Bangla movies. Aguner Parashmoni, Shyamal Chaya, Amar Achhey Jol, Shrabon Megher Din and the other movies got him the national award on many occasions. For his brilliance as a writer, he was awarded the Bangla Academy prize in 1981. He bagged the Ekushey Padak in 1994.
Was he our most popular writer only? Whenever I read his 1971 and Jalil Shaheber Petition, my eyes get wet. I haven't read many stories finer than these. The stories are based on our great war of liberation. His Chokh, based on the social malaise of gouging out the eyes of a criminal, makes us speechless in wonder. What a powerful writer! Syed Shamsul Huq always praised this story in superlative terms. His first two novels, Nandita Narakey and Shankhaneel Karagar, took our literary world by storm in the early seventies. Nobody has written in a more sensitive manner on our struggling middle class existence before. Two decades ago I saw his Ajatra, a TV play on a poor, retired primary school teacher, trying in vain to collect his pension by overcoming bureaucratic hurdles. He created touching moments, beautiful moments of love and affection in this play of a struggling, old teacher almost at will. Young Humayun Faridi, another gifted Humayun, acted brilliantly in the old teacher's role. I never liked a play more. I quietly said, 'Hats off!' to both Humayuns. I wanted to see the play again. I realized that Humayun Ahmed could always come up with sublime art if he wanted to.
Humayun Ahmed was a meritorious student with excellent results in all major examinations. He was almost at the top of the merit list in his SSC and HSC examinations. He even secured record marks in his BSc Honours and MSc exams of Dhaka University's chemistry department. He did his Ph D in polymer chemistry from North Dakota State University. He was extremely well-read. He was the first writer of science fiction in East Bengal. Fiha Samikaran, Tomader Janya Bhalobasha and Omega Point are excellent books of science fiction. On his return from the US, he turned into the Humayun Ahmed we know now the popular writer of fiction, dramatist and film-maker. In the 1970s, he did not write for popularity. He was a serious writer then. The American cultural scene taught him a lot and changed him.
Humayun Ahmed is famous for his simplicity. He says the most in the least words. His economy of expression is exemplary. He depends on witty dialogue more than narration. Science taught him to be logical. His rational, logical and clear approach made our youngsters love him. He never bored his readers. He taught them to love nature, to be romantic and smart and also to love science and logic. He understood both west and east and mingled technical know-how with eastern emotion and wisdom. No wonder his books were always bestsellers. Readers almost always read his books in a single sitting. Big novels like Jyotsna O Jananir Galpa and Madhyanha are perhaps exceptions. In spite of a few weaknesses, Jyotsna O Jananir Galpa is a major work on 1971. Gouripur Junction and Badshah Namdar (on Moghul Emperor Humayun) are good novels. His Himu and Misir Ali novels have surpassed all selling records. Darjar Opashe, Moyurakshi, Ami-i Misir Ali and Nishithini are good examples. He wrote more than two hundred novels. He also wrote for children. Who can forget his Botol Bhut, Shurjer Din and Putul?
May the gifted son of Mymensingh, of Bangladesh, of the Bangla speaking world live long in our hearts!
Junaidul Haque writes fiction and essays.