Case filed to 'stop anti-India voice'
Claims Kamaruzzaman's counsel at war crimes trial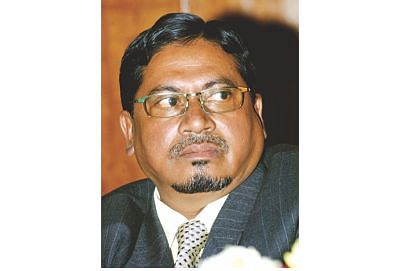 The defence of Jamaat leader Muhammad Kamaruzzaman yesterday told International Crimes Tribunal-2 that the Awami League-led government had filed the "false and fabricated" case against him after being "instructed and provoked by India to silence his anti-India voice".
"After liberation, accused Kamaruzzaman began journalism and started writing against Indian aggression policy," defence counsel Kafil Uddin Chowdhury told the tribunal yesterday during cross-examination of Hamidul Haque, the first prosecution witness in the war crimes case.
"That's why the ruling Awami League created the false and fabricated case against Kamaruzzaman after being instructed and provoked by the Indian government to silence his anti-Indian voice," added Kafil Uddin
Hamidul Haque, a freedom fighter and former student leader, rejected the defence claims saying, "It is not true."
For the fourth day, defence counsel Kafil Uddin cross-examined the prosecution witness, asking over 30 questions.
The three-member tribunal, led by Justice ATM Fazle Kabir and including Justice Obaidul Hassan and Judge Md Shahinur Islam, completed recording the cross-examination of Hamidul before adjourning the case proceedings until July 25. The second prosecution witness will record testimony on that date.
Kafil Uddin said, "What you have said against Kamaruzzaman [in your testimony] is false, fabricated and conspiratorial and you have given the testimony on getting favours from the government."
Hamidul Haque replied, "It is not true."
"You have given the testimony for political purposes," said Kafil Uddin, which Hamidul denied.
"Do you know, where and when Kamaruzzaman formed Al-Badr Bahini [an auxiliary force of the Pakistan army during the 1971 Liberation War]?" Kafil Uddin said.
"I cannot mention the date but he [Kamaruzzaman] formed Al-Badr in Mymensingh town [during the Liberation War]," replied Hamidul.
During his testimony on July 15, Hamidul said Kamaruzzaman had tried to persuade him, while he was detained at an Al-Badr camp during the Liberation War, to join him and root out freedom fighters.
When yesterday's case proceedings began at 2:05pm, Justice ATM Fazle Kabir said, "We are sorry. We could not sit on time due to some technical problems." He also asked the defence counsel to complete the cross-examination within half an hour.
But when Kafil Uddin sought more time at 3:00pm, Justice Obaidul Hassan said, "We have to take measures. We will set time [for cross-examination]."
Kafil Uddin had cross-examined the witness for seven and a quarter hours on July 15, 16 and 19.
During yesterday's cross-examination, the tribunal on several occasions asked the defence not to ask the witness irrelevant questions.
Kamaruzzaman, who was indicted on seven charges on June 4, for his alleged involvement in murder and torture of unarmed civilians during the Liberation War, was in the dock yesterday.
MIR KASHEM
International Crimes Tribunal-1 yesterday granted war crimes suspect Jamaat-e-Islami leader Mir Kashem Ali division facilities in jail.
Considering his social status, the tribunal, led by Justice Md Nizamul Huq, accepted the appeal of the detained Jamaat leader and ordered the authority concerned to provide him with Division-1 in jail.
During a hearing on July 19, Mir Kashem's counsel Abdur Razzaq sought division for his client as the district magistrate had declined to give the prisoner under-trial division.
Tribunal-1 had set yesterday for delivering an order on the issue.
Meanwhile, Tribunal-1 deferred recording the testimony of the first prosecution witness against detained Jamaat-e-Islami ameer and war crimes accused Matiur Rahman Nizami to August 5.
Earlier, Nizami's lawyer submitted a list of 10,111 defence witnesses before the tribunal.
On May 28, the tribunal framed 16 charges against Nizami for his alleged involvement in murders and torture of unarmed people during the Liberation War in 1971.
The tribunal later continued with the defence cross-examination of the investigation officer, the last prosecution witness against war crimes accused Jamaat-e-Islami Nayeb-e-Ameer Delawar Hossain Sayedee.
Sayedee is facing 20 charges of crimes against humanity.