Lakshyapar celebrates monsoon with classical music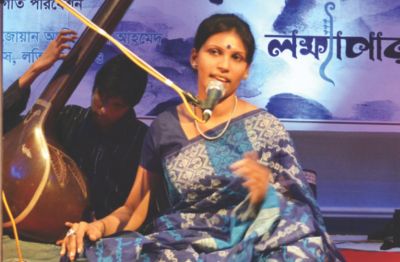 Narayanganj based classical music organisation Lakshyapar celebrated monsoon with a classical musical soiree, titled "Malhar Shondhya", at Narayanganj High School and College auditorium on July 6.
Classical vocalist Latifun Lulio set off the event, performing a khayal based on Raga Gaur Malhar. The talented artiste also rendered another khayal set on Raga Sur Malhar.
Chhayanaut teacher Dr. Rezwan Ali was next to take the stage. He presented a khayal based on Raga Megh at the event. The artiste's style of rendition beautifully captured the images of monsoon. Young flutist Mrityunjay Das from Bagherhat played Raga Sur Sarong. The promising artiste mesmerised the audience with the melody of his flute during his one and a half hour long performance.
Tabla artiste Sabuj Ahmed earned accolades accompanying all the three performers at the soiree.
Prior to the performances, coordinator of Lakshyapar, Professor Asit Kumar, welcomed all and spoke on the forthcoming activities of the fourth consecutive year including holding annual classical music conferences. The organisers also handed over the 'Haradhan-Sukhen Shastriyo Sangeet Pronodona Britti' to students (SSC and HSC level). Four years back, Lakshyapar started its journey through holding a nightlong classical music conference. Apart from arranging annual music conference, the organisation has also been holding season based (spring, summer, monsoon and late autumn) musical programmes from this year.