Deaths of newborn babies a big concern
83,000 die each year, experts tell The Daily Star-Save the Children roundtable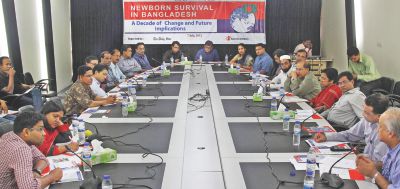 Neonatal death still remains a great challenge for the nation although the rate has dropped to 27 form 41 babies per thousand over the last decade, said speakers at a roundtable yesterday.
On an average, around 83,000 babies die a year.
The speakers urged authorities concerned to incorporate a fully-fledged paediatric section to the undergraduate curriculum for doctors and train nurses the manuals to reduce infant death rate.
The roundtable on "Newborn Survival in Bangladesh, a decade of change and future implications" was jointly organised by The Daily Star and Save the Children at The Daily Star Centre in the capital.
Physician Abid Hossain Mollah of Dhaka Medical College Hospital maintained that paediatrics was one of the most neglected areas in the undergraduate medical curriculum. Students even pass exams without studying paediatrics sincerely.
Of their 52 weeks of internship, medical students spend only four weeks at the paediatric department which is certainly inadequate. As a result these doctors remain shaky about treating neonatal and post-natal complexities, added Abid Hossain.
Mohammad Shahidullah, pro-vice chancellor of Bangabandhu Sheikh Mujib Medical University, said two basic precautions -- having a delivery kit and keeping the baby dry and wrapped -- can reduce neonatal deaths significantly.
And then again ensuring proper care of the umbilical cord and making sure that breast feeding is initiated as soon as possible up to at least six months is crucial for newborn babies, he said, adding that bathing the baby should also wait for three days since birth.
Altaf Hossain of Directorate General of Health Services said sepsis, asphyxia and poor weight of a newborn were the major causes for neonatal deaths.
Apart from that, post-natal care is one of the toughest challenges for the government, as the sector has seriously been suffering from lack of manpower, he added.
Ziaul Matin of Unicef mentioned of five rights of a newborn. They are: rights to safe delivery, breathing, suitable temperature, breast milk and to be free from infection.
Bangladesh is very much on the right track in achieving the Millennium Development Goal-4, he said, adding, "We have data on the high-child-mortality areas in Bangladesh and know which areas to prioritise. Initiatives for community-based intervention and increasing awareness have already been taken in 32 districts."
Uzma Syed, adviser (Asia region) to Save the Children, said 12 programmes on post-natal and maternal cares were on across the country.
Shams Ul Arifeen of International Centre for Diarrhoeal Diseases Research, Bangladesh (ICDDR, B), said health workers must be adequately resourceful to educate people in remote areas on how to take care of newborn babies.
Health services have to be extremely reliable or else rural people would simply not avail the service.
MAK Azad Chowdhury, of Neonatology at Dhaka Shishu Hospital, said just because of delayed arrival to the hospital a number of children die of post birth health complications.
He said people used to put cow dung on umbilical cords due to superstitions but now people have been made aware of the basic do's and don'ts. South India and Sri Lanka have lower infant mortality rate just because people are more aware there.
Paediatrician Rubuya Khatun said child marriage and early pregnancy must be checked as child mothers give birth to most premature babies.
Speakers also stressed the need for proper countrywide awareness campaigns regarding the neonatal and maternal care issues.
Brig Gen (retd) Shahedul Anam Khan, editor, Defence & Strategic Affairs of The Daily Star presided over the discussion. He laid importance on the role of the media and urged the government to include the media as partners in making people aware.
Speakers vouched for breast feeding immediately after births and said it could reduce 50 percent deaths of babies with low weight.
Gazi Ghiasuddin, deputy country director of Save the Children, Subrata K Bhadra of NIPORT, MA Mannan of BSMMU, Ziaul Matin of Unicef, Arefin A Islam of Smiling Sun Franchise Program, Abdul Kuddus of Diabetic Association of Bangladesh, DM Emdadul Hoque of ICDDR, B, Mamin ur Rashed, Sanjoy Kumer Dey and Javedur Rahman of Save the Children attended the roundtable.