Sweetmeat Monda: A rich tradition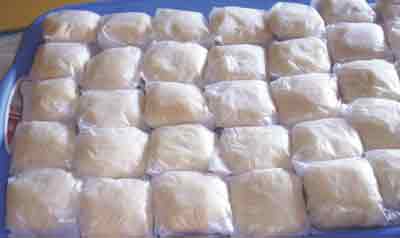 Monda, a mouth-watering traditional sweetmeat, is easy on the taste buds. The sweet, first made in 1824, is reputed in the subcontinent and many countries for its originality, taste and flavour.
Ram Gopal Pal, better known as Gopal Pal, first prepared this sweetmeat in 1824. He offered it to Maharaja Suryakanta Acharya Chowdhury, one of the leading zamindars of Muktagacha.
Maharaja Suryakanta was full of praise for Gopal Pal and encouraged him to prepare monda to entertain guests who visited the zamindars. The zamindars also extended financial support to Gopal Pal for the expansion of the business.
Now Sree Ramendranath Pal and Brothers run the business. They are the fifth generation of the Gopal Pal family.
Ramendranath informed that the zamindar of Muktagacha arranged various cultural and discussion programmes at Muktagacha. They entertained their guests with monda. Ustad Alauddin Khan; famous physician of this sub-continent Dr. Bidhan Chandra Roy and Netaji Subash Chandra Bose, were among those who visited Muktagacha then and tasted monda.
When the zamindars visited dignitaries and high officials of the British government, they took monda along with them, said sources.
Eminent cultural personalities and political leaders have visited the shop on different occasions.
Noted film actors Razzaq, Kabori, Shabana, Probir Mitra, Sohel Rana, Telly Samad, Bulbul Ahmed, Anwar Hossain and theatre personalities Mamunur Rashid, Amol Bose, Abul Khayer, Asadduzzaman Noor and Pijush Bandopadhyaya, among others have visited the shop and highly appreciated the taste and flavour of monda.
Many tourists from Pakistan, India, Nepal, Sri Lanka, China, Japan, Korea, England and America have visited the shop and have tasted the monda.
Tourists in their comments have termed monda as a very delicious sweet.
Eminent political figures of the country, including Bangabandhu Sheikh Mujibur Rahman, Maulana Abdul Hamid Khan Basani and renowned lawyer Dr. Kamal Hossain, have also visited the shop.
Memorable social worker and philanthropist Ranada Prasad Saha (R.P Saha) of Mirzapur in Tangail also visited the famous shop on various occasions.
When Indian prime minister Indira Gandhi and Britain's Queen Elizabeth visited Dhaka, they were also treated to monda from this shop.
The popular "Bangladesh: a lonely planet travel survival kit" written by Alex Newton, Besty Wagenhauser and John Murray and published by Lonely Planet Publication from Australia in 1996 (Third edition), says "The Western palate may not appreciate the subtleties of this famous monda, which, to the uninitiated, tastes a bit like a grainy, sweetened yogurt cake".
They also wrote, "The Rajbari (Muktagacha Rajbari) here draws the occasional visitors, but the town is best known throughout Bangladesh for its famous sweet shop Gopal Pali Prosida Monda", which makes the best monda in the country."
Many shops named 'Muktagachar Monda' have opened up in and outside Muktagacha but the original monda shop has no branch, said Mihir Kumar Pal, Ramendranath's younger brother.
"We want to maintain the original reputation of our mondas so we do not plan to open a branch elsewhere in the country, said Mihir Pal, adding that mondas go for Taka 330 per kg (22 pieces).