Great expectations of a journal
Md. Shafiqul Islam travels back to literature studies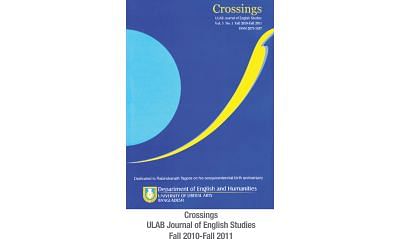 ULAB Journal of English Studies is becoming a pioneer in the study of not only the English language and English literature but also in the study of Bengali literature. This study includes multi-cultural literatures and the reader will discover world reading internationally excellent essays in it. Some of the contributing scholars demonstrate wide breadth of expertise across many literary periods and topics.
The introduction by the editor, Professor Mohit Ul Alam, is so exhaustive and pin-pointed that a reader readily knows what a rich treasury this edition is. This is the third issue of Crossings: ULAB Journal of English Studies, and is dedicated to Rabindranath Tagore on the occasion of his sesquicentennial birth anniversary. In his honour eight essays have been published, which address many aspects of his works and which are placed in the first section, titled "Tagore." The second section consists of ten essays on various authors, and is named as "Literature," while the third group of essays, titled "Language," consists of six essays that explore the theories of language and suggest ways to implement English with greater efficacy at the institutional level in Bangladesh. The fourth group includes the book reviews, four of them".
The first two essays on Tagore are translated from Bangla, one being written by Rafiqul Islam, Professor Emeritus at ULAB and Nazrul Professor, who discusses the personal relationship between Tagore and Kazi Nazrul Islam, the national poet of Bangladesh, who was thirty-eight years junior to Tagore, but whom the former acknowledged with great affection for his rebellious poetic soul, and would always welcome him whenever they met. Tagore dedicated his play, Bashanta (The Spring) to Nazrul and urged him to withdraw his hunger strike by a telegram sent to Alipore Jail, where the latter was interned. The second translated essay is by Serajul Islam Choudhury, UGC Professor and frontline intellectual of the country, who discusses the plays by Tagore from a Marxist point of view and opines that through his plays Tagore showed he rightly identified the problems of a class-ridden society, where exploitation by the rich of the poor is the embarrassing fact, yet because of his class allegiance it was not possible for him to suggest drastic measures that could bring about actual social changes. Both the essays have been translated by Golam Sarwar Chwodhury, Professor of English at ULAB and a member of the editorial board of Crossings.
In the third essay, Syed Manzoorul Islam, a renowned litterateur and cultural personality, comments on Tagore's paintings as being predominantly romantic, which was the result of Tagore's adopting a synthetic approach between traditionalism and modernism. Kaiser Haq, renowned poet of Bangladesh writing in English, and who has now joined ULAB fulltime on lien from Dhaka University, in the next essay, compares several translators of Tagore who worked at the time when his reputation in the world was flagging, but says that it was William Radice who could be given the major honours for pioneering the job of restoring Tagore to global readership. In the fifth essay, Fakrul Alam explores Tagore's missionary zeal in preaching humanism by delivering speeches worldwide, and in doing so, Alam says, Tagore mastered the English language through much labour and ultimately achieved an acceptable standard in that language. Alam therefore claims that Tagore's prose writings in English deserve greater attention than they have been given.
Mohit Ul Alam compares Tagore with Shakespeare in respect of their treatment of young marriageable daughters in their works and opines that both writers deal with the theme of dowry as a questionable social practice. In the next two essays, Mohammad Shahidul Islam Chowdhury and Abdullah Al Mamun both discuss almost the same theme as was drawn upon by Mohit Ul Alam in the previous essay, which is the portrayal by Tagore of the abject condition of women.
The next group of essays, under the caption "Literature," introduces Arun Gupto's essay first, in which Gupto discusses the internal dislocation in R. K. Narayan's novel, Untouchable, in which the central character, Bakha, seems to be discarded by the novel's elitist language itself. In the next essay, Nuzhat Amin deliberates the important point whether Arundhati Roy is more a writer than an activist or vice versa, and concludes that in Roy's case the question is impertinent as both identities cross-fertilize each other. Mah-E-Nur Qudsi Islam, the next essayist, writes on Hamlet from a feminist critical paradigm in order to point out Shakespeare's tentative approach towards his female characters, thus allowing them to come to the centre at times and then sending them off to periphery, almost like an ebb and flow. The next essayist, Rajyashree Khusru-Lahiri focuses on the literature of Kashmir proving the fact that the translation of that literature done by non-Indians shouldn't be viewed as an act of imperialistic patronage but rather as a trend that has actually helped Kashmiri literature to survive. Milan Kundera's masterpiece, The Unbearable Lightness of Being, has been analyzed by Shahnewaz Kabir from a Nietzschean perspective and the conclusion he makes is that Kundera, like Nietzsche, has allowed the positive value of life (Tomas: weight) to have edge over the irresponsibility (Sabina: lightness), while Nasrin Islam, the next essayist, discusses Kafka's Metamorphosis as to claim that it is not only Gregor who is metamorphosed but also his sister, Grete, who undergoes a psychological metamorphism. In a way, the following essay, that of Musarrat Shamim on Coetzee's Disgrace, can be linked thematically with the essays on Tagore published in the earlier section of this volume so far as it shows the role of Lucy as a feminist protester against the traditional aesthetic role of women drawn and assigned by a male hegemonic discourse. The next essayist, Asif Iqbal, raises the question whether Bangladeshi writers writing in English are able to deflate the criticism commonly raised against the subcontinental English writers that they write from an elitist position, and opines that the Bangladeshi writers in English have not come out of that stigma except for poet Kaiser Haq. Shakil Rabbi, in the next essay, discusses three postcolonialist novelists by putting them in a theoretical framework of travel writings and says that the writersPico Iyer, Bikram Seth and Amitav Ghosh respectively--have historicized the 'contact zones' by not subscribing to the imperial tropes but rather by erecting their own scaffolding of resistance. Syed Waliullah, one of the famed modernist novelists of Bangladesh has been celebrated in the next essay by Md. Shafiul Alam Khan Chowdhury for his novel, Tree Without Roots, where Majid, the protagonist, is portrayed as an existentialist, who does not suffer from the traditional hangover of having to be ethically accountable for his action.
The review of such a good edition of English Studies is an arduous task. This journal, one hopes, will play the role of a forum for the best new research. If my 'great expectations' come true, this may become the largest and most comprehensive work of its kind in the future. It is easy to say but difficult, not impossible, to achieve.
Md. Shafiqul Islam, a senior civil servant, studied English literature at Dhaka University. His e-mail: [email protected]