Ancient statue found in city hotel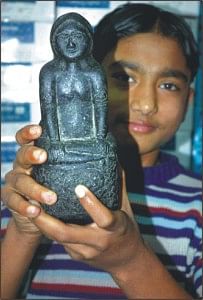 An ancient statue of Lord Buddha was found abandoned near the water tank of a hotel at Nawabpur Road in Old Dhaka yesterday.
An employee of an electric shop found the statue lying near the water tank of Nidu Hotel and informed the police.
On information, the law enforcers rushed to the spot and recovered the statue, weighing 2.37kg. They said the market value of the statue might be Tk 2.5 crore.
Police said one of the boarders might have brought the statue to the hotel and left it there, fearing arrest.