Trespass on Teknaf
Newborn baby halts family's deportation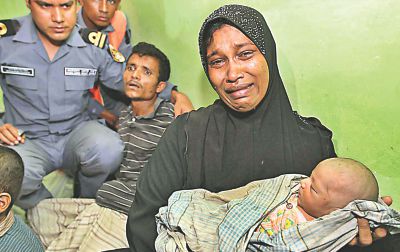 A seven-day-old was among the 22 boat people in the custody of BGB and coast guard last night.
Of the 15 Rohingyas, who entered Teknaf by boat Monday night fleeing Maungdaw in Myanmar's Rakhine state, 11 were sent back yesterday evening. The BGB kept the rest at a local camp.
A family -- husband, pregnant wife and two kids -- came to St Martin's Island from Sittwe (formerly Akyab), the capital of Rakhine state, on June 13 with a group of around 44.
Soon after their arrival, the woman gave birth to a boy, later named Sangram.
The coast guard pushed back 39 Rohingyas after a few days.
Yesterday, the family was brought to the coast guard station at Shah Porir Dweep and provided with food, medicine and accommodation.
Lt Bodruddoza, coast guard commander at Teknaf, told The Daily Star that they sheltered the family for now considering health of the mother and the newborn.
When weather would be good, the five would be sent back with another 13 Rohingyas who came from Akyab and was under the BGB custody at Shah Porir Dweep yesterday.
In tears, the couple told journalists they don't want to go back to clash-prone Akyab, a two-day boat journey from Teknaf.
Mohammad Rafiq, 27, father of Sangram, said he was a fish processing worker at Akyab and wife Amina Akter, 24, a homemaker.
He along with his pregnant wife and two sons, aged seven and five, fled his house at Jaliapara of Akyab on June 10 as clash broke out and many houses were burnt down.
Lt Col Zahid Hasan, commanding officer of BGB 42 Battalion at Teknaf, told this correspondent yesterday that no new boats came from Akyab over the last six days. The situation at Maungdaw was also "much better".
About the intrusion attempts by nearly 150 Rohingyas from Maungdaw on Monday, Zahid said, most of them were men aged between 20 and 30. There were also some teenagers.
"People of this age group at Maungdaw regularly try to intrude [into Teknaf] in search of work."
The intrusion increases in January-February, October-November and just before the holy month of Ramadan, he added. The Ramadan is only four weeks away.
The region needs many day-labourers for salt production in January-February and rice harvest in October-November.
Every year, young Rohingyas try to enter Teknaf to earn some money and return home immediately before Eid-ul-Fitr, said Zahid.
Some of Monday's intruders might have come fearing raids by the Myanmar army. But as all of them were males of a certain age bracket, it's very much likely that they had taken the advantage of the crisis.
The BGB boss of Teknaf noted that all the boats earlier came from Akyab with a good number of males, females and children.
Some local fishermen hire illegal Rohingya immigrants while some Rohingyas living in Teknaf as refugees help others flee Myanmar into Bangladesh.
Mahbubul Hoque, officer-in-charge of Teknaf Police Station, said some criminals of the localities including Shah Porir Dweep assist in Rohingya intrusion just for money.
The BGB on June 14 caught four persons trying to help some Rohingyas to intrude and the coast guard detained another on same charges on June 16.