World Refugee Day
Refugees have no choice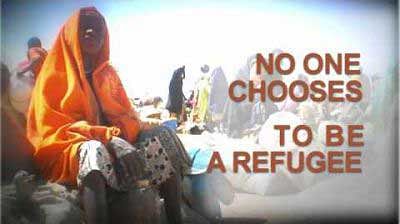 The United Nations' (UN) World Refugee Day is being observed today. On this Day we honour the courage, strength and determination of women, men and children who are forced to flee their homelands under threat of persecution, conflict and violence. There are approximately 14 million refugees now around the world now. This year the theme of this Day is "Refugees have no choice. You do."
Currently, a widely discussed and written topic in Bangladesh is the Rohingya issue. Everyday we are receiving requests from many international bodies to accept the Rohingya refugees. Bangladesh is in a dilemma about what to do though our government has already expressed its point of view. The problem is, Bangladesh is cordial by nature to the people of its neighbouring countries, which is why sometimes we feel compassion for the Rohingyas. Our eyes sometimes get wet seeing their faces. We see many pictures of Rohingyas in newspapers which make us wonder about our firm decision. But the vital question is, what should be the appropriate approach to this problem from Bangladesh's perspective?
According to UN, thousands of refugees have fled from Rakhine province by boat. Many are already in camps in Bangladesh. Many are said to have been turned back in recent days. Why does everyone want us to provide shelter? Why don't they put pressure on Myanmar to solve the problem? Rakhine state in north-western Myanmar has become restive following communal incidents involving the majority Rakhine Buddhists and the minority Rohingya Muslims. The government has declared a state of emergency there. Recently, Myanmar was able to draw attention and praise from all over the world for its democratic reforms.
Bangladesh has always maintained cordial relations with Myanmar. The Rohingya issue affects Bangladesh since the Rohingyas look for refuge in Bangladesh whenever there is trouble in Rakhine -- and Myanmar authorities also pushed Rohingyas into Bangladesh. Bangladesh has been facing the problem of "Rohingya refugees" for the last three decades, but it cannot continue like this. Bangladesh has many national and international problems to handle and this is an alarming problem for us. There are two sides to the violence -- humanitarian and political. Regarding Myanmar's political issues, Bangladesh has nothing to do. If this situation had occurred for the first time it would be a humanitarian issue, but it is not so simple. Bangladesh had earlier given shelter to many Rohingyas, whose status is still unresolved. They take it as granted. Bangladesh can't pamper them in this way.
"We must work together to mobilise the political will and leadership to prevent and end the conflicts that trigger refugee flows. [...] Despite budget constraints everywhere, we must not turn away from those in need. Refugees leave because they have no choice. We must choose to help," United Nations' Secretary-General Ban Ki-moon said. So we can expect the United Nations to put pressure on Myanmar to solve the political problems and remove racial discrimination.
The first time Rohingya refugees -- numbering about 200,000 -- entered into Bangladesh was in 1978. The repatriation of these people was a matter of dispute between the two countries. Most of them have gone back while some are still left in the camps in Cox's Bazaar and other places. Myanmar was not ready to accept all the refugees as its nationals while many refugees themselves are disinclined to go back for fear of trouble.
United States Secretary of State Hillary Clinton has called for calm and resolution of the problem at the earliest. Demonstrators in Yangon and some other places in Myanmar are clamouring against the Rohingyas, calling them "terrorists from Bangladesh."
The Myanmar government should control its nationals from leaving the country. Myanmar is now on the doorstep of great reforms. This process may be adversely affected if ethnic problems continue unabated. The Myanmar government should ensure safety and security of life and property of its people, including the Rohingyas, so that they do not feel forced to leave their country out of absolute despair.
The Bangladesh government has taken a firm position not to allow them to cross into the country. The issue also has a humanitarian angle as the United Nations High Commissioner for Refugees (UNHCR) has urged Bangladesh to accept the refugees, among whom are many women and children.
Sheltering Rohingyas in Bangladesh is not a permanent solution to the problem. Presently they are in trouble; they have no other choice except entering Bangladesh. But rest of the world and the Myanmar government have many things to do. Let them solve the problem or else it may happen again.
The writer is Senior Lecturer, Dept. of English, ASA University Bangladesh.