Rohingyas coming in again
BGB men offer lunch, dry food, water before sending them back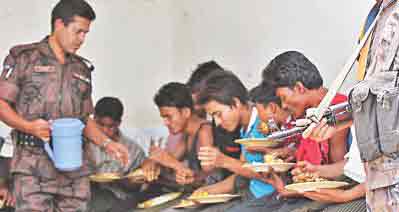 After three days of almost no intrusion attempts by Rohingyas, around 148 boat people from Myanmar tried to enter Bangladesh from Sunday night till yesterday afternoon.
A small group of seven attempted to flee into Teknaf from June 14 to early Sunday, while yesterday alone eight fishing boats full of 140 headed for Teknaf shores.
All the 140, except for a minor girl who claimed to be Bangladeshi, were male Rohingyas and they left their villages fearing "arrest by Myanmar army".
Locals and officials, who breathed a sigh of relief thinking that Rohingyas had stopped escaping the neighbouring Myanmarese state of Rakhine to Bangladesh, became worried at this fresh influx bid.
The Rohingyas were sent back to Myanmar by boats with dry food and water. The girl was kept in BGB custody for identity verification.
The intruders came from the villages of Maungdaw, a town of the Western Rakhine state, bordering Teknaf upazila of southern Cox's Bazar district.
It was around 11:00am yesterday when the BGB and coast guard saw from the Shah Porir Dweep coast some five Rohingya boats bobbing in the river.
After the Rohingyas had ignored directives to go back, the forces brought them to the Shah Porir Dweep jetty. Another two groups of boat people, caught by the forces a few hours earlier, were also kept there.
Around 3:00pm, a small boat of seven Rohingyas trying to make an entry through the river was stopped by a coast guard team. This group, too, was taken to the jetty.
The BGB provided meal for all the intruders.
Some locals of Shah Porir Dweep also bought from a local store some dry food and bottles of mineral water for the Rohingyas.
The store owner, Nurul Absar, who also donated some dry food, told The Daily Star that the locals were helping the Rohingyas on humanitarian and religious grounds.
Absar, however, said providing shelter to Rohingyas in Bangladesh was not a good idea. "Myanmar is their [Rohingyas'] country; their government has to solve their problem."
He said the countries that were concerned about Rohingyas should put pressure on Myanmar to resolve the crisis.
Also, two boats carrying eight Rohingyas were intercepted by guards in Sabrang and Naitong areas in the morning and all of them were pushed in the course of the day.
Local officials who keep themselves updated about the developments in the neighbouring country said there was a "cordon and search operation" at Maungdaw on Saturday and Sunday nights.
The Myanmar army arrested many male villagers from the town and those who were picked up were still traceless.
Lt Col Zahid Hassan, commanding officer of BGB 42 Battalion at Teknaf, told The Daily Star, "As they [Rohingyas] are aware of the hospitality of Bangladeshis, they prefer to come here instead of looking for safe places within Myanmar."
Zahid said the BGB had fed the intruders on humanitarian grounds.
But some other officials in the force and local administration say if the other Rohingyas came to know about this hospitality they would prefer to come to Bangladesh.
About yesterday's intrusion attempts, Zahid talked to Myanmar border force Nasaka. "Nasaka claimed they didn't send the Rohingyas to Bangladesh forcefully."
Things were different in 1991, during the second influx of Rohingyas as refugees, when the Myanmar government itself sent them forcefully.
Yesterday, one of the Rohingyas, identifying himself as Mir Ahmad, 25, claimed that on Sunday he along with his younger brother and two nephews fled his village at Bakghona of Maungdaw after Maghrib prayers fearing possible arrest.
They started on a boat with 15 others aboard from a nearby coast in the dark and escaped Nasaka vigilance, but were intercepted by the BGB.
He said Rohingya males of the village were being taken by some unknown people to unknown places in the last few days and none of them had returned home. Asked, Ahmad could not give any details.
Ahmad Shah, another intruder, said he had fled his village at Padongcha two days back and remained in hiding in a forest.
He got on a boat yesterday morning and tried to enter Teknaf but failed.
When the Rohingyas tried to come to Bangladesh yesterday morning, there were more then a hundred Bangladeshi boats in the Naf River near Shah Pori Dweep for fishing.
They rowed across as if theirs were fishing boats like any other.