Jaya Ahsan touches new heights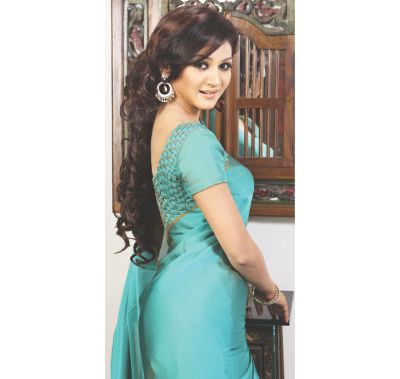 Popular star Jaya Ahsan continues to make new strides in her career, capturing both media attention and praise from viewers for her performances. On June 14th, the leading actress of the country was present at the 'maharut' of a new commercial film, where she will star opposite the top favourite of the contemporary silver screen, Shakib Khan. Both the stars were present at the 'mahurat', which was held at Zahir Raihan Color Lab, BFDC.
The upcoming movie, to be directed by Shafiuddin Shafi and produced by Friends Film International, has been titled "Purno Doirgho Prem Kahini". Jaya said that the project was finalised only 15 to 20 days prior to the event, and shooting is due in August. Shooting will take place in Dhaka and abroad.
Asked about her character in the film, Jaya said the details are still sketchy as work on the script is still on, but added that the movie will be a "sweet love story". Explaining her decision to work in a commercial film, she said that the people behind the project seemed sincere about making a quality film. She added that she is against being stereotyped in her work and her latest film will give her the chance to play a radically different role. Even if the story requires her to dance, the actress will not step down; and if her efforts help bring positive changes to the Bangladeshi film arena, she will go full steam ahead, said Jaya. She however claimed not to differentiate between commercial and parallel films. Pointing out that she has worked in an array of TV plays and movies through the years, Jaya added that the challenges in acting will continue in all forms and she will focus on producing a high quality film.
The chance to work with the top movie star of the time feels great, says Jaya smilingly, adding that the script required her act opposite a mainstream hero.
Shakib Khan is optimistic about the success of the film and is confident that Joya's presence will add to the attraction of the celluloid work. The storyline is quite different from the run of the mill stories, says Sakib.
On a different note, the actress informed that this was her first time at BFDC and she had the chance to interact with several new actors. However, Jaya Ahsan asserted that her new endeavours do not mean that her talent is confined only to celluloid, she will stay active in TV dramas as well. She has also recently worked on a play called "Na Komola, Na Meherjan".
Meanwhile, "Chorabali", another of Jaya's silver screen efforts, currently awaits release. Kolkata star Indranil worked opposite her in the film. Jaya has also finished shooting for a Kolkata movie "Aborto". Shooting for "Guerrilla" was a different experience, while viewers will get to see another side of her in "Aborto". In "Chorabali", Jaya will play a journalist, and it's a movie which she claims is completely fresh. None of her past performances will match her new ones, Jaya asserted and that she doesn't want to become 'typed' in the eyes of the audience.
On the other hand, people involved in the movie industry take a positive view of Jaya's decision to work in a commercial film. BFDC managing director Pijush Bandapaddhay, actress Afsana Mimi, Amjad Hossain, Film Directors Association president Mohammad Hannan were present at the ',mahurat' of the new film.
Jaya added that she had received much appreciation on that day, specially from Afsana Mimi.
Jaya is scheduled to visit USA later this month to take part in a Bangla Utshob in New York. Later she will head for London to visit her younger brother, before she returns home.