For endearing environment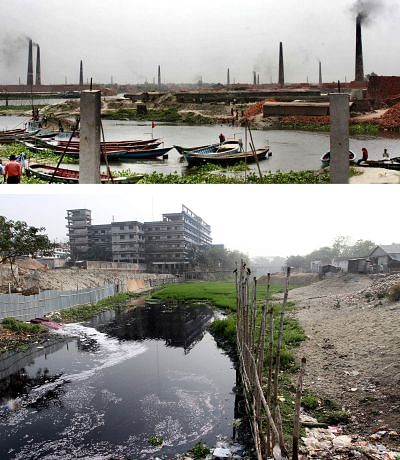 Presently the most often uttered words are environment, pollution, climate change etc in Bangladesh. Yet while the entire world is busy in thinking about our environment, we are too busy to manage our daily life. Sometimes it's a luxury for many to think about future impacts of climate change as we have to struggle every moment for bare existence through host of crises. But it's true that we are creating a hellish future for our future generations misusing our present.
As a nation we are now frustrated with the state of our country, its politicians, corruption, poverty etc. The best thing we do nationally is 'overlooking'. Every day we are overlooking happenings in our surroundings -- ill treatments, misdeeds, illegal activities, disloyalty etc. In this situation it's very tough to build up awareness among general people about our environment, its destruction and pollution etc. We need an educated, conscious citizens group who will convince others that we need a radical change in our attitude.
Every day we see news of de-forestation, dying river, air pollution by brick fields, water pollution by chemical waste of mills and factories etc. But we don't care; because for us more important is saving ourselves from road accident, kidnapping and hijacking etc. Our ears, eyes, brains are tired of thinking and talking over these issues. Every day we are destroying our valuable asset environment by polluting air, water, soil and clearing green coverage.
We have many environmental laws in books, but these are seldom practiced. Recently we found that only a few cases have seen positive results. There are more than hundred cases filed by BELA, BAPA, POBA against ship breaking and other polluting industries.
In a seminar on ministries' role in containing environment pollution, speakers claimed that though there are at least fifteen ministries involved with environmental issues, but they are not active at all.
United Nations thinks that for climate change in future peace and security of entire world will be in danger. World temperature is expected to rise 4 degree Celsius and sea level will rise one metre by next century. If it happens, there will be no Sundarbans.
We get some alarming news from scientists that by 2050 almost half of Bangladesh will be under sea. But we don't find so much seriousness among citizens, government or policy makers about this. The way we forget any dangerous news of murder after few days, same way we also forget about this kind of alarming situation or data.
In future our agriculture and fisheries sectors will be highly affected for seasons' shrinking. In future summer and rainy season will be prolonged, autumn and spring will be diminished. By 2050 production of foodgrains will be less by 32 per cent. If sea area expands there will be scarcity of drinking water as well.
There is a law that no brick field can be set around three kilometers of forest. But this rule is not maintained. They use earth from hill and river to make brick and to burn brick forest trees are used.
In the developed countries reconditioned cars are not allowed to be used, but in Bangladesh we use these frequently. Though there is a govt. rule not to use reconditioned car for more than five years, but this law is also frequently broken. Every day city dwellers mostly suffer from air pollution. Except CNG driven vehicles, other vehicles use diesel and petrol which emit carbon-di-oxide (CO2), carbon mono oxide (CO), hydro carbon (HC) etc.
On an average every day four thousand metric tons of waste of Dhaka city dwellers mix with soil and five rivers around Dhaka. If we add the waste of mills and factories that may be forty thousand metric tons. All these waste make our rivers almost dead. Buriganga River bears a ten feet layer of waste! Once people took bath in the river, now it's even harmful for animals. Three hundred chemical compounds were found in nineteen cubic feet of the river water! We can understand the risk from one fact: Chromium creates cancer in human body which we get from tannery waste.
If we can't save our rivers from pollution we have to lose fishes, mammals, birds from our environment. We have to bring major changes in our lifestyles to save our environment. But no one is punished in Bangladesh for urinating in the open, no one is punished for public smoking, not to speak no one is punished for throwing garbage in open street. We need strong law and its execution for protecting environment.
Parks, green fields need to be protected from illegal occupation to keep the city as much possible green. Anyhow we have to control our population growth, have to de-centralize facilities throughout the country, then Dhaka city can take a breath and the citizens may experience lesser pollution of environment.
Only awareness and love for the country can save our environment from pollution. Let us work together for ourselves and our future generations. May be the environment, air, water, rivers cannot talk, cannot protest, but one day they will revolt in such a vigorous way that we, human beings, just cannot do anything to protect ourselves. Let's not make our environment our enemy or vice versa what we are doing. If it is sick, we will be sick, too.
The writer is Senior Lecturer, Dept. of English, ASA University Bangladesh.