Azzurri plan to attack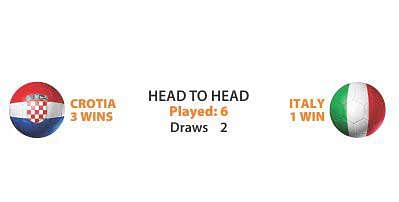 Antonio Cassano believes Italy coach Cesare Prandelli will continue his attacking approach as the Azzurri tackle Croatia in their second European Championship Group C match here on Thursday.
Italy surprised many people with their positive performance in a 1-1 draw with world champions Spain on Sunday as they took the game to the defending champions at times and created several scoring opportunities.
And Cassano said a return to the traditional "catenaccio" (door-bolt) style of the past is not an option under Prandelli.
"From the first day Prandelli's style has always been to attack," said the 29-year-old AC Milan forward.
"He's changed his system but his style is always to have possession and to attack.
"Against Spain we did it less because they had a lot of the ball but you saw the same idea, it didn't change from attacking."
Cassano himself is the man who leads the line but many are wondering who will play alongside him.
Errant Manchester City forward Mario Balotelli got the nod against Spain but played poorly and was replaced just before the half hour mark by Antonio Di Natale, who looked lively and scored the opener.
Prandelli has admitted he is considering dropping Balotelli in favour of Di Natale and Cassano says he has no preference as to who he plays alongside.
"The important thing is that I play," he joked. "Whoever (Prandelli) he chooses, the problem would be if they both played and not me!"
Italy need a victory to ensure they tackle Ireland in their final group game with their destiny in their own hands as Croatia won their opening match against the Irish 3-1.
Failure to beat Croatia would mean Italy needing to beat Ireland in their final game in Poznan and hoping the result between Spain and Croatia does not cost them.
The importance of this match has not been lost on Prandelli who says he will change some things.
"What counts in the choices is the nervous and physical state of the players," he said.
"This will be the decisive match of the group. The idea is not to change too much so that we have consistency."
In the first match against Spain, Prandelli abandoned the four-man defence that conceded the least goals of any team in qualifying and reached the finals with two games to spare.
Instead he opted for a back three with wing-backs Christian Maggio and Emanuele Giaccherini working tirelessly on the flanks.
Prandelli has yet to decide what to do in his next match but says much will depend on the fitness of his players.
But he also admitted he hadn't decided who would start up front.
"Before thinking about how to tackle Croatia we have to study them well," he said.
"When we decide on how to tackle this team, we will decide on the forwards."