Expunge diatribes
TIB urges Sangsad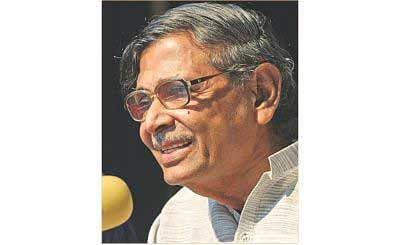 Prof Abdullah Abu Sayeed
Transparency International Bangladesh yesterday demanded that parliament expunge some lawmakers' remarks about noted litterateur Prof Abdullah Abu Sayeed, a member of the TIB trustee board, from its proceedings.
"The parliamentarians' comments are yet to be expunged and we expect that parliament will do that," Sultana Kamal, chairperson of the TIB trustee board, said at a press conference at the BMA auditorium in the capital.
"We are grateful to the deputy speaker for his stance on this issue. But we fear he [the deputy speaker] might have some answering to do for that. The elected representatives on whom we pin our hopes are gradually letting us down."
The TIB organised the press conference to explain its stance following Sunday's parliament discussions about Prof Sayeed and the TIB. Video footage of Prof Sayeed's speech at Saturday's TIB programme was also screened at the conference.
A section of ruling alliance lawmakers in the House said Prof Sayeed had termed lawmakers and ministers thieves and dacoits at a TIB programme on June 2, and demanded that he offer an unconditional apology in the House for his comment.
Prof Sayeed, founder of Bishwa Sahitya Kendra, said at the conference yesterday that he had not mentioned the name of any country, or lawmaker or parliament on Saturday's programme.
"We have aged, gained some knowledge and learnt to respect people. I am not that crazy to make a sweeping comment about lawmakers that they are all bad and corrupt."
He read out reports published in two newspapers and said, "What I had said at the TIB programme and what they published are completely different."
"Anyone can get angry after reading these news reports. I do not blame the parliamentarians completely. But what I want to say is democracy is the rule of the greatest sons of a country and the parliamentarians are the greatest sons of a nation."
"So, they [the lawmakers] have a greater responsibility. They should talk and behave with dignity."
He said what had hurt him the most was that the lawmakers had slammed him without trying to know the facts. "Nobody asked or inquired about it, yet everyone passed comments."
Prof Sayeed said he was very hurt by ruling party lawmaker Sheikh Fazlul Karim Selim's comment that a teacher was not supposed to own houses or cars.
"I live an ordinary life. I neither have a house nor a car. I live in a two-room rented house."
Prof Sayeed said Selim had once told him that he had been Prof Sayeed's student and "it hurts when such comments come from a student."
He was also upset about the way the lawmakers criticised him. "The people who blasted me are half my age. Even the rudest remark can be made in a decent way."
"We want the parliamentarians to smile all the time, speak in a decent language and keep a congenial atmosphere in the country. It is the demand of the general people."
Prof Sayeed said none had apologised to him and he would not take legal action against any newspaper.
Sultana Kamal said the persons who had blasted Prof Sayeed should offer an apology.
TIB Executive Director Dr Iftekharuzzaman read out a written statement at the press conference.