Taking on a nightmare
Shahid Alam writes on a litany of well-known facts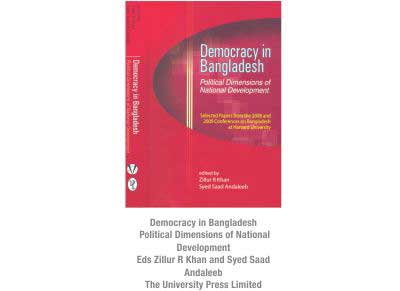 At first glance, the title of the book, Democracy in Bangladesh, might appear to be an oxymoron. That is because what passes for liberal pluralist democracy being practised in Bangladesh, and has been for the last twenty-odd years, is a travesty of the spirit and, in instances, of the institutional practice, of the political ideology. Zillur R Khan and Syed Saad Andaleeb, have, nonetheless, undertaken the onerous task of compiling eight essays and presenting them as suggestions for improving the dismal situation. And the papers have offered copious ideas on a number of issues. Many are sound, but the authors have essentially placed the cart before the horse. Unless the abysmal political culture prevailing in the country is turned around for the better, and the spirit of liberal pluralist democracy is ingrained in the mindset of the general population, none more crucially than in the political activists, all the holy advice and pronouncements will have little impact on the political system obtaining in the country. Prior to the current lot, a good number of writers have given their considered thoughts on the subject, others are continuing to do so. Countless scholarly speeches have been, and are being, made, but the caravan of dysfunctional politics keeps rolling on.
Zillur Khan, Professor Emeritus of the University of Wisconsin, USA, and Saad Andaleeb, Distinguished Professor of Business School at Pennsylvania State University, USA, have selected eight papers presented at two conferences on Bangladesh organized at Harvard University in 2008 and 2009. Their hope is that the book will engender further discussions among researchers and policymakers on the socio-economic development of Bangladesh. Well, one can always hope! If that sounds a tad cynical, well, experience over the last twenty-odd years makes it difficult not to be, and also since so many reports on matters of good governance, healthy political culture and suchlike have been gathering dust in some government office or the other without having been given much of a glance by those who should have been giving them much more than a cursory look. The caravan of dysfunction, meanwhile, rolls on. Therefore, it might be too optimistic to hope that the papers contained in Democracy in Bangladesh will fare any differently. To reiterate, the mindset requires a major overhaul. And the true spirit and norms of liberal pluralist democracy have to be established in Bangladesh.
For the record, the chapters presented in the book, in numerical order, are "Democracy and Security" by Zillur R Khan, "Can Proportional Representation Help Stabilize Democracy in Bangladesh?" by Nazrul Islam, "The Chittagong Hill Tracts Peace accord: Autonomy and Related Issues" by Zakia Afrin, "Bangladesh in the Twenty-First Century: Democracy, Development, Terrorism and Its Counter-Forces" by Naureen Chowdhury Fink, "Development, Democracy, and the NGO Sector: Theory and Evidence from Bangladesh" by Sabeel Rahman, "NGOs, Clientelism and the Makings of Social Change" by Joe Devine, "Rethinking Regional Cooperation: From Conflict Mitigation to Integrated Development" by Tariq A Karim, and "The Dynamics of Refugee-Related Violence in South Asia" by Navine Murshid.
One fails to find the aptness in the inclusion of the last two chapters in this volume. Only by a considerable stretch of imagination can one draw any semblance of relevance to democracy and politics in the purely international relations/foreign policy-oriented article by Tariq Karim. And this view even after acknowledging that, almost always, foreign policy is an extension of domestic policy. Navine Murshid's article, as she says, is "on how the relationship between the host country and refugee groups becomes violent." For a good part, it is as she says, but, more to the point, it has very little to do with the political culture or the state of democracy in Bangladesh. Neither author, moreover, has made any conscious effort to link his/her topic with the state of the polity in this country. Karim's paper contains this contentious statement: Homer-Dixon's thesis, propounded in 2000, draws attention to the onset of significant climate change, and moves Karim to pronounce that, in doing so, Homer-Dixon was "far ahead of his times, and almost prophetic in his pronouncement." Surely, such pronouncements and the putative dire consequences of appreciable climate change had been made much before the year 2000 and by a number of people!
The book contains a litany of well-known facts relating to Bangladesh that many have uttered or written on. Typical is Zillur Khan's mention of accountability, transparency, mutual tolerance, integrity, effectiveness and responsiveness in electing and selecting decision makers in order to ensure national security and sustaining democratic governance. Point taken, but the measures suggested to attain them, or to remove or mitigate obstacles in obtaining them, are also frequently suggested grandiose comprehensive schemes, wonderful in an ideal or near-ideal situation, something that is some distance away from the one obtaining in Bangladesh. Again, we have to return to getting the horse of a democratic mindset in good working order first before letting it pull the cart of all those admirable suggestions, and allow the spirit and norms of liberal pluralist democracy take over the body politic of Bangladesh.
Nazrul Islam comes up with the idea of introducing the system of proportional representation as a way out for Bangladesh from its political funk. Proportional representation is theoretically a good idea, but I am not sure if Islam has argued convincingly enough that it could work in Bangladesh. He acknowledges that it is not an easy system to implement, but he believes that it could work in this country because Bangladesh has shown "ingenuity by devising the system of Caretaker Government", that "because of revolutionary changes in the media technology...people are more informed in general and more aware about better functioning of political systems elsewhere in the world" and "are therefore now more receptive to new ideas and new suggestions." Well, at least we are aware of the conundrum now surrounding the caretaker government issue, although we can safely take with a big pinch of salt the idea that the masses are aware of the sound functioning of political systems around the world any more than they did before the media technology revolution. Usually it is better to arrive at conclusions based on ground realities!
Zakia Afrin sketches out the multifarious problems relating to the Chittagong Hill tracts, and, in keeping with a trend, comes up with a broad gamut of suggestions to improve the situation. Naureen Fink begins with a careless statement: "For better or worse, Bangladesh has been presented a rare opportunity to renovate its institutions of democratic governance and reassert its foundational values." Now, the opportunities presented could not but be for the better, could it, although, one can envisage it to be for the worse if some devilish being out to get this country had concocted those opportunities in a way that they could only be counter-productive if implemented. Fink worries about religious extremism taking over this country, but is convinced, with some trepidation, that the people of Bangladesh will not allow that to happen. However, her uncertainty manifests itself through her rather sweeping remark that "Bangladesh may have replaced Pakistan as a haven for Southeast Asian terrorist groups." Her observations on one aspect of religious education, though, warrants serious consideration: "The nationalists-secularists in Bangladesh...have often failed to engage more frequently with religious communities to understand or challenge their rhetoric. Consequently, religious study has been neglected by the upper echelons of society and its propagation has been left to those who have little access to mainstream education or broad social exposure."
Sabeel Rahman argues that "the abandonment of political activism on the part of NGOs has, in the case of Bangladesh, led to a macro level crisis of democratic institutions and the public sphere." He arrives at this conclusion after having earlier stated that "the dramatic prominence of NGOs in developing countries can be dangerous for the goal of achieving an accountable and responsive political system and a robust consolidation of political citizenship in the developing world." One would have thought that Bangladesh lies firmly in the developing world and that it requires an accountable and responsible political system! In fact, NGOs have, as Rahman suggests, had fallout with both the governmental sector and donors. Their political partisanship, especially in the 1990s, have left them suspect in the eyes of mainstream political parties.
Joe Devine, in his far more down-to-earth and pragmatic assessment of NGOs, draws attention to this last point. Referring to the break-up of the Association of Development Agencies in Bangladesh (ADAB), he says that the "main catalyst to the break-up was a basic disagreement among a few of the country's top NGO leaders about if and how to engage with the main political parties during the 2001 national elections." Devine's is one of the very few down-to-earth thoughtful articles contained in Democracy in Bangladesh. The state of liberal pluralist democracy in Bangladesh needs a massive shakeup that encompasses ground realities.
Shahid Alam is Head, Media and Communication department, Independent University Bangladesh (IUB).