Indo-Bangla trade fair begins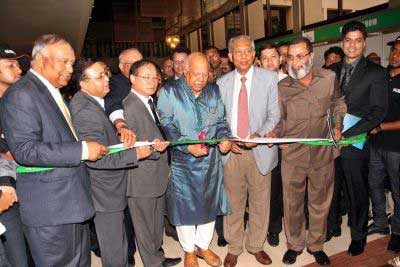 The third Indo-Bangla Trade Fair 2012 began at Sonargaon Hotel in the capital yesterday.
India-Bangladesh Chamber of Commerce and Industry (IBCCI) organised the event that is supported by the Indian high commission in Bangladesh and sponsored by the State Bank of India to strengthen the business relations between the two countries.
AMA Muhith, finance minister, inaugurated the fair as the chief guest where Dilip Barua, industries minister; Pankaj Saran, Indian high commissioner, and Nabam Tuki, chief minister of Arunachal pradesh, were also present.
A Bangladesh-North East India Business Conclave, organised by the Indian Chamber of Commerce in association with the IBCCI, was also held on the sidelines of the showcase.
Dipu Moni, foreign minister; Nabam Tuki, chief minister of Arunachal Pradesh; Mukul Sangma, chief minister of Meghalaya; Gautam Roy, minister for public health engineering of Assam; Jitendra Chaudhury, industries minister of Tripura and Tapang Taloh, industries minister of Arunachal, spoke on the occasion.
A business delegation from India and a delegation of the government officials from North East Indian states are already in the city for interactions with their Bangladesh counterparts.
More than 30 Bangladeshi and Indian companies in six pavilions and 33 stalls are taking part at the showcase.
One-on-one meetings to boost networking among the business persons of both the countries have also been arranged.
The Confederation of Indian Industry and Federation of Indian Export Organisation are the fair partners in India. GLOBATT from Rahimafrooz sponsored the inaugural ceremony. Triune Exhibition and Event Management Services is the event coordinator.