Art journal "Shilpa O Shilpi" launched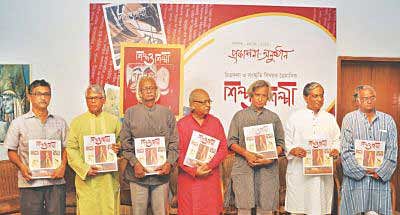 In an endeavor to highlight varied aspects of fine arts -- on national and international fronts -- and encourage the contemporary art movement, Bengal Foundation has recently brought out a quarterly art journal, titled Shilpa O Shilpi. The Bangla journal publishes writings by reputed art critics, artists and reviewers from Bangladesh and abroad. Published full-colour on art paper, the main aim of the magazine is to generate global interest in our art and culture.
To mark the launch of the magazine, a programme was held on May 26 at the Bengal Gallery of Fine Arts in Dhanmondi, Dhaka.
Renowned Indian artist Jogen Chowdhury was present as special guest at the launching programme. Artist Qayyum Chowdhury, who is also the president of the editorial board of Shilpa O Shilpi, presided over the programme.
The programme was also attended, among others, by Abul Khair, publisher of the magazine and chairman of Bengal Foundation; Abul Hasnat, editor of the magazine; Luva Nahid Chowdhury, director general of Bengal Foundation; educationist Dr. Borhanuddin Khan Jahangir; Professor Nazrul Islam, former chairman of University Grants Commission; filmmaker Abu Sayeed, senior artists, poets, writers and cultural activists.