<i>Socrates gets retrial in Greece</i>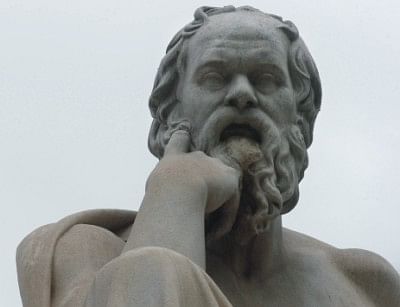 Lawyers in Greece were preparing yesterday for enacting the trial of Socrates, the ancient philosopher sentenced to die for provoking the powerful, in a spectacle they say is ever-relevant in times of revolution and crisis.
Socrates spoke himself at his trial in the fourth century BC, but now in his absence a panel of 10 US and European judges will hear pleas by top lawyers at the event at the Alexander S. Onassis foundation in Athens.
Organisers say judges and the audience will then vote on whether he is guilty on the ancient charges of impiety and corrupting the young.
Socrates' influential inquisitive method, preserved by ancient authors such as the philosopher Plato, treated sensitive notions of politics and morality that earned him powerful enemies.
"We are talking about democracy versus oligarchy, free speech in a time of national crisis; the wisdom of voters versus the non-wisdom of voters," said Loretta Preska, a New York district chief judge presiding at yesterday's trial.
"It is allowing us to debate all these issues again," she told AFP.