Target low-cost townships
India's Sahara Group signs deal with govt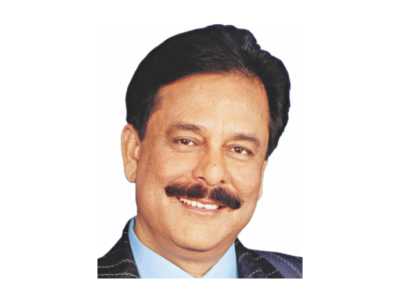 Sahara Group, an Indian business conglomerate, yesterday signed a Memorandum of Understanding for investment in low-cost township schemes in Bangladesh.
Chairman Subrata Roy Sahara and from the Bangladesh side Syed Matlubur Rahman, joint secretary (development), housing and public works, and Nurul Huda, chairman of Rajdhani Unnayan Kartripakkha, signed the MoU in Dhaka.
The MoU does not have any legal binding but it contains the intent of the government and Sahara India Parivar to work mutually for the development of Bangladesh.
Sahara is going to set up an office in Dhaka and submit proposals to the government to finalise a deal.
After the signing ceremony, Subrata Roy said, "I have an emotional attachment with this country. From my childhood, I have heard so much about Bikrampur (a place near Dhaka) from my mother that I feel I have come to my own land, to my own soil."
His family migrated to India after the partition of the subcontinent in 1947. This visit is his first to Bangladesh.
"We are extremely happy at the possibilities of working in Bangladesh. Apart from the business ventures, we also have a social and sentimental interest in venturing into all possibilities," said the Sahara chairman.
State Minister for Housing and Public Works Abdul Mannan Khan said, "We are looking forward to working and overcoming all obstacles with mutual respect and assistance."
The chief of the Lucknow-based conglomerate said the size of its investment was yet to be decided.
"I saw in the newspaper that investment amount would be some billions of dollars. But it is now difficult to say how much money we will invest," he categorically said.
The government will provide a "sovereign guarantee" against the investment and his company will procure and manage all the necessary funds, he added.
The Indian media had earlier reported that Sahara India was going to invest Rs800 billion in Bangladesh and that the group had already selected 40 square kilometers of land, about 50 kilometres away from the capital, to begin with.
The possibilities of working on education and health sectors were also considered apart from the real estate sector.
Sahara Group, which was founded in 1978, has diversified interests, including financial services, housing finance, mutual funds, life insurance, city development, real estate activities, print and television media, film production, power, information technology, health care, tourism, hospitality, sports and consumer products.
The company has a market capitalisation of $25.94 billion as of March 2011, according to its website.
According to Time magazine, it is the second biggest employer in India after Indian Railway.
Subrata Roy along with his wife Swapna Roy and around 20 company officials arrived in Dhaka on Tuesday on a three-day visit.