Bangladesh Delta Plan 2100 taken
MoU signed with Netherlands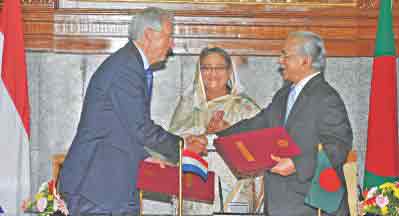 The government has embarked on preparing a fifty to hundred years' long "Bangladesh Delta Plan 2100" to deal with issues like climate change, water resources management, river dredging and construction of embankment in a coordinated manner.
"The very mega plan will be like the one of the Netherlands' Delta Plan as characteristics of both the countries resemble", Planning Minister AK Khandker told reporters during a press briefing at National Economic Council (NEC) in the capital.
With the assistance of the Dutch government, a Delta Commission will be formed to implement the mega plan.
The two countries signed a memorandum of understanding (MoU) to this end yesterday, which would focus on strategic partnership in the fields of sustainable delta management, integrated water resources management, disaster management, and adaptation to climate change.
The planning minister and visiting Dutch Minister for Development Dr Ben Knapen signed the MoU on behalf of their respective sides at the Prime Minister's Office (PMO). Prime Minister Sheikh Hasina witnessed the signing ceremony.
The minister said earlier the government had taken various plans like national water management plan, integrated costal management plan, haor master plan, national water resources management plan, but they failed to bring desired development in the country.
"Moreover, we have wasted many resources to implement those single-unit plans", he added. "That's why the government has taken the holistic approach, encompassing different sectors like agriculture, fisheries, industry, forestation, water management, and sanitation".
The main theme of "Bangladesh Delta Plan 2100" will be water resources management in consideration of climate change effects, he said.
The Bangladesh government will formulate and implement the plan.
Earlier, the Dutch minister called on the prime minister at the PMO, when Hasina sought Dutch assistance in river dredging, reclaiming of land, construction of embankment, creating greenbelt in coastal region, and other climate change adaptation and mitigation programmes.
She also sought the Dutch government's technical and financial assistance regarding Bangladesh Delta Plan 2100 aimed at sustainable delta management, integrated water resources management, and disaster management.
The Dutch minister assured her of continued support to various sectors in Bangladesh.