The Daily Star-Robi English Fair
<i>250 more students of Jessore take part</i>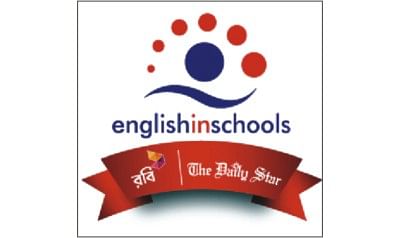 English language fair under English in Schools programme, a joint initiative of The Daily Star and mobile operator Robi, was held at a school in Chougachha upazila of Jessore district yesterday.
Adcom Ltd is the creative and event partner of the fair.
Around 250 students of Chougachha Model High school participated in the fair held at the school auditorium.
Md Kamal Ahmed, headmaster of the school opened the programme.
Globally renowned movie The Lion King was screened followed by quizzes on vocabulary, one-ward questions, situation-based questions, extempore speeches and role play.
Students of the school took part in joyful interactions and entertained the audience by reciting poems, telling jokes and singing songs.
Twelve students won different competitions. Headmaster Kamal Ahmed distributed prizes among the winners at the end of the programme.
Aiming to promote English language learning among school students across the country, The Daily Star in cooperation with Robi undertook English in Schools programme in 2009.
Under the initiative, each of one thousand schools selected from 64 districts of the country receives three complimentary copies of The Daily Star five days a week.
The ongoing English language fairs at different schools are being held in coordination with the education ministry as part of the three-year-long programme.