G8 'unified' against Iran, Syria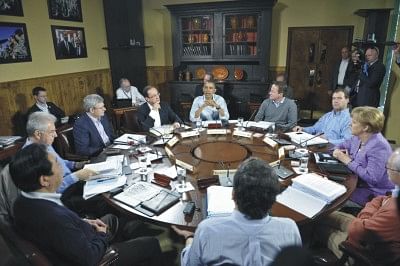 Group of Eight leaders agreed in their discussions at Camp David yesterday that Iran needs to disclose more about its nuclear ambitions and that it was time to focus on a political transition in Syria, said President Barack Obama, the host.
"I think that all of us agree that Iran has the right to peaceful nuclear power but that its continuing violations of international rules and norms and its inability thus far to convince the world community that it's not pursuing the weaponization of nuclear power is something of grave concern to all of us," Obama said.
"We're unified when it comes to our approach with Iran."
Iran has said sanctions over its disputed nuclear program should be lifted in talks with world powers next week in Baghdad, but yesterday maintained that the punitive measures would not compel it to abandon its atomic "rights."
G8 leaders yesterday vowed to ensure oil markets are "fully and timely supplied" to ensure that tough new sanctions coming into force against Iran do not send energy prices soaring.
In what one official called an "unusual" statement, leaders meeting at the Camp David summit said they would keep a close watch on supplies and would ask the International Energy Agency to take action if the situation demanded.
Iran is to meet representatives of the so-called P5+1 group, comprising the five permanent UN Security Council members plus Germany, in Iraq's capital on Wednesday for the second round of talks which were revived in April in Istanbul after a 15-month impasse.
US President Barack Obama also said that the G8 -- which includes Russia -- agreed that the political process in Syria should move forward "in a more timely fashion."
"We had a discussion about Syria, we all believe that a peaceful resolution and a political transition in Syria is preferable," Obama said, flanked by leaders of the G8 industrialized nations at a Camp David summit.
More than 12,000 people, the majority of them civilians, have died since the Syrian uprising against President Bashar al-Assad began in March 2011, including more than 900 killed since the putative truce came into effect, rights activists say.
"We are all deeply concerned about the violence that's taking place there, the loss of life," Obama said.
"We're supportive of the Annan plan, but we agree, and I expect that this will be reflected in our communique, that the Annan plan has to be fully implemented and that a political process has to move forward in a more timely fashion to resolve that issue."
But Russia's non-intervention stance on Syria remained unchanged yesterday.
"There cannot be any change of regime through force," the Kremlin's Africa envoy, Mikhail Margelov said, adding that G8 leaders meeting at Camp David had yet to agree on the Syria part of their final summit declaration.
"You cannot use an ax to shear your way through the Syrian crisis, you have to use a pair of pincers to somehow sort it out."
At the end of the Friday night dinner, Obama had a chocolate birthday cake delivered for Japanese Prime Minister Yoshihiko Noda, whose birthday is today. The G8 at Camp David was scheduled to end yesterday afternoon, at which time Obama and several of the other leaders will head to Chicago for a Nato summit.