Recreating an image through deconstruction
Imtiaj Shohag's solo exhibition at Alliance Francaise de Dhaka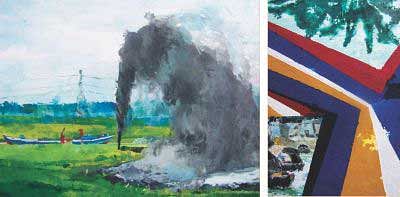 Bangladeshi expatriate painter Imtiaj Shohag has been working with quiet determination to make it in the Paris art circuit. He is presently in Dhaka for a few weeks, and his solo painting exhibition, titled "The Water Beyond", is now on at Alliance Francaise de Dhaka, in Dhanmondi. Shohag has developed styles that are mainly technique-based. The painter works in encaustic medium, which uses heated wax -- coloured pigments are added to that. The paste is then applied to a surface, like wood or canvas. In older times, this medium gained much popularity among the experimental painters for its promptness and its quick application process. The medium has seen resurgence in popularity since the 1990s.
Shohag constructs an image and then he deconstructs it, only to recreate it. Well-drawn figures, objects and meticulously created textures make most of his images memorable. His works often highlight natural disasters, and painful man-made adversities. He is particularly concerned about the chaotic aspects of calamities -- flood, cyclone, global warming and pollution. Suffering of flood-affected people, broken ships, irrigation, pitchers, the effects of tremor, road accidents and many more imageries realistically appear in his paintings. It is obvious that his mode of expression has a great similarity to narrative paintings where one gets a familiar story of his or her surroundings.
Shohag's images also ardently capture fragmented visions inspired by realism. The artist did many paintings where forms of disintegration were highlighted. At his ongoing exhibition, his works also highlight a combination of contemporary geometric shapes and kaleidoscope forms. The artist has used figures and motifs derived from his whimsical visions.
Collage is a recurring technique visible in his works. He feels that the technique gives an edge to his paintings. The works seem time consuming as well. Use of broken glass is another noticeable feature. Shards of glass are placed on the canvas as they give greater significance to his themes. The artist believes life is impacted by numerous incidents. Fragments indicate these incidents in our surroundings.
The painter was born in Barisal in 1973. He studied at the Institute of Fine Arts (now Faculty of Fine Arts, University of Dhaka) before being granted a scholarship by the French Ministry of Foreign Affairs to continue his studies in France. He spent a year in France at the Ecole des Beaux-Arts d'Aix-en-Provence before gaining admission into the prestigious Ecole Nationale des Arts Décoratifs in Paris, from where he graduated in 2004 in Art-Espace. From 2002 to 2004, he was artist in residence at the Cité Internationale des Arts de Paris.
The exhibition ends on May 22.