Mrinal Sen: The real on reel, without sugarcoating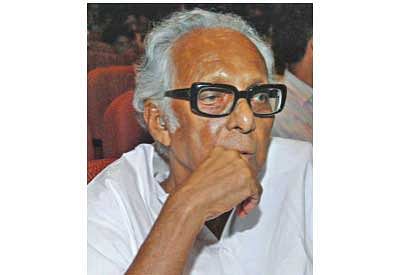 It was a balmy summer evening in mid-1970s when I first got to see director Mrinal Sen at a get-together in a club set up by my friends in my locality in a south Kolkata suburb. It was at the height of Naxalite movement and the subjects of discussion with 'Mrinal-da', as he was popularly called then, were films and politics.
Sitting on a worn-out mat, sipping steaming tea from an earthen pot and smoking cigarettes almost one after another in the club house made of bamboos and cane, Sen engrossed us, who were all college students at that time, in more than an hour-long discussion. We did not agree with Sen on all issues but what struck me most was the total absence of any air in a director who was already an established name in Indian cinema and the ease with which he could mingle with a group of commoners.
I have not met Sen since then but felt it was a good opportunity to remember the man who turned 89 yesterday and said the furthest from his ever-agile mind is retirement from film-direction. In fact, it's just the opposite -- his enthusiasm for filmmaking is strong as ever and said he might just come up with another new film.
His previous film "Amar Bhuban", starring Nandita Das, was released a decade ago but that does not deter him from going behind the camera again. "Everyday I feel like making a new film. Ideas pop up out of my head. Let's see when I can act on them," said Sen, one of the pioneers of parallel cinema in India, along with Satyajit Ray and Ritwik Ghatak, who changed the profile of Indian films internationally.
"I haven't so far made any more films. But, to assure you, I do not think that I have retired," said the director born in 1923, in Faridpur (now Bangladesh).
Besides bagging four National Film Awards as the best director for works like "Khandhar" (1984) and "Bhuban Shome" (1969), Sen also received the Dadasaheb Phalke Award, India's highest award in filmmaking, in 2005.
The director had recently got an invite from a leading private bank offering him money to make films. "Money is not a problem for me. The bank said we could fund projects worth upwards of Rs 5 crore. I told them I can make six films with Rs 5 crore," Sen said.
Asked if he his planning any birthday bash, the Left-leaning director said he doesn't celebrate birthdays.
"Birth or death, it is not my business to celebrate. My friends and relatives and others who think of me are there to celebrate if they will. Not me," Sen said.
At the age of 89, what worries Sen is not his own health but the poor health of his film prints. "Most of them are in pretty bad condition. All due to unfriendly climate and, of course, due to unhealthy storage," the director said.
Under the monitoring of the National Film Archives of India in Pune, private labs in Mumbai are now working on digitalising and restoring two of his films -- "Antareen" (The Confined) and "Ek Din Pratidin" (And Quiet Rolls the Day) which is arguably his best creation.
In 2010 when his film "Khandahar" was invited to the Cannes Film festival, Prime Minister Manmohan Singh had personally intervened to get the film print restored in time for the screening.
"I have now gathered that the central government had since then been going ahead with the restoration work for various other films including mine," the director said.
Having started his career as a director with "Raat Bhor" in 1951, he went on to make 28 feature films and four documentaries in languages varying from Bengali to Oriya, Hindi and Telugu.
It is but natural that Sen, a student of Kolkata's famous Scottish Church College and later Calcutta University and a member of Communist Party of India's cultural front, Indian People's Theatre Movement, would capture the political and social milieu of his time in his works. The major political and social issues at different times always agitated Sen and is reflected in almost all his works including "Neel Aksher Nichey"; "Bhuban Shome"; Kolkata trilogy, "Interview", "Calcutta 71" and "Padatik", made in 1970s against the backdrop of rising Naxalite movement, and "Parushram".
Sen's Kolkata trilogy is regarded as one of the most sensitive and loudest political statements reflecting his pro-Left ideology.
But Sen's best political film is "Oka Uri Katha" made in Telugu in 1977 starring, among others, Mamata Shankar. Set against the backdrop of Telangana region of Andhra Pradesh, the film poignantly brings out the exploitation of the poor in a deeply feudal social and political set-up with no slogan-shouting and scenes of processions.
Sen is at his best when portraying the society -- whether it is urban middle class as in "Ek Din Protidin" or rural landless in "Oka Uri Katha" or during an interaction between the urban and rural classes in "Akaaler Shandhaney" or in "Kharij". In all these films, Sen brings out the humane as also the moral hypocrisy and opportunism of the middle class.
Sen can also claim the distinction of introducing several new faces and accomplished actors like Sreela Majumdar, Anjan Datta and, of course, his own wife Gita Sen who has done so well in films like "Chaalchitra", "Akaaler Shandhaney" and "Ek Din Protidin".