Gatlin is back!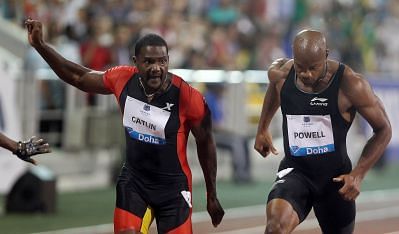 Justin Gatlin, dead and buried after a four-year doping ban that saw him, in desperation, mull a potential career in American football?
Not likely, the American insisted after scorching to a blistering 9.87 seconds to win the 100m at the opening leg of the 14-meet Diamond League here.
Gatlin's time, his fastest outdoor season opener since he started professional sprinting at the age of 19, places him firmly in the same bracket as absent Jamaican arch-rivals Usain Bolt and Yohan Blake.
Bolt and Blake skipped this meet, preferring to open their seasons on home soil and clocking 9.82 and 9.84sec respectively.
Fellow Jamaican Asafa Powell finished just one-hundredth behind Gatlin in Doha, setting up the prospect of a battle royale between the US and the Caribbean island's finest sprinters come this summer's London Olympic Games.
"I want everyone to know Justin Gatlin is back and I want the Olympic title," insisted Gatlin.
It would be an unlikely tale for the athlete who claimed 100m gold at the Olympics in Athens in 2004, but then fell foul of drugs and served a four-year ban, coming back in late 2010.
His path back to form, and acceptance by meet directors and fans, saw him win a second world indoor 60m title in Istanbul in March, after a first success way back in 2003.
"You've got to take track and field as a soap opera with spikes on," Gatlin said of the global athletics circuit.
Wherever he goes, there is always a question on doping lurking, something he never shies away from.
"I feel that whatever time we've served, innocent or guilty, we've served that time. Taking that privilege [of competing] away from us, after being tested again and again, is unjust," is how Gatlin's measured reply goes.
He even went to pains to stress that he had only happy memories of competing in Doha, where he ran 9.77sec in 2006 to match Powell's then world record, only for it to be rescinded after the doping violation came to light.
On Friday, Powell got away to his usual blistering start, only to seize up at the vital moment in the run-in to the line, Gatlin producing his trade-mark final surge to win by a head.
"I was feeling a little sluggish, but that felt great," said Gatlin.
"Everybody wants to see great competition. They've watched the Usain Bolt show for a couple of years, they want to see someone else in the mix and I'm happy to step up and be in the mix as well.
"The Jamaicans have got their team together well, so we have to do that as well. But the US has always had good racers, we have Tyson Gay, Walter Dix and me. I'm back!"
Remarkably for the 30-year-old Gatlin, who looks in incredibly lithe shape with a lot less muscle mass around the shoulders and pectorals than in previous seasons, his 9.87sec was the "fastest I've ever opened up my whole career".
"It shows I have a lot of grit and a lot of competition still left in these old legs. I just want to come back and run with the best of them," he said.
Jamaican sprinters, he said, "you have been warned. I'm back!"