Samay Theatre Festival '08
Today's play "Konjush"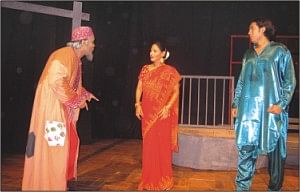 As part of the festival organised by Samay Shanskritik Goshthi, Loko Natya Dal will stage Konjush, an adaptation of the Moliere satire, The Miser, at the National Theatre Stage.
Konjush belongs to the 'Comedy of Morals' genre, which is designed to address vices such as hypocrisy, pride, greed, social pretensions and nepotism.
Tariq Anam Khan's adaptation of the play presents a 'Dhakaiyya' (a native of Old Dhaka) protagonist -- a rich old man named Haider Ali. Through Haider Ali's story, Konjush attacks the and opportunistic tendences of the elite.
Liaquat Ali Lucky is the director, set and light designer of the play.