Boshonto Uthshob in Chittagong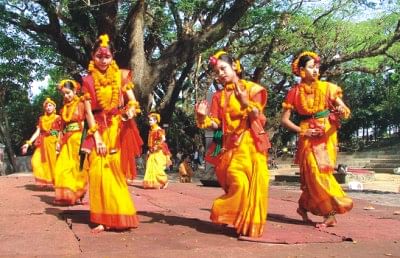 Boshonto Uthshob, the first day of Falgun (the first month of spring) was celebrated here in the port city last Wednesday amid much enthusiasm.
Eminent revolutionary Binod Bihari Chowdhury inaugurated the daylong festival at the Nazrul Square (widely known as DC Hill) organised by Bodhan Abritti Parishad at around 9:15am.
Chowdhury said, "Spring has come once again to inspire us all with new hope. He recited from Shelley, "If winter comes, can spring be far behind?"
Bodhan chalked out different cultural programmes on the occasion. The programme started with solo recitations performed by the child artistes of the organisation.
Artistes of Raktokarabi, a cultural organisation led by Shila Momen, performed chorus songs welcoming spring.
Students of Odissi and Tagore Dance Movement Centre performed dance.
Artists Mansur Ul Karim, Hashi Chakrabarti, KMA Qaiyum, Dhali Al Mamun, Zahed Ali Chowdhury, Shaila Sharmin Sathi, Nasima Akhter Rubi, Aloktagin Tushar and Tasadduk Hossain Dulu were seemed engrossed in capturing the celebration in their paintings.
Shaila Sharmin told The Daily Star that they would donate their paintings to Bodhan to raise funds for setting up a cultural centre.
She thanked the organisers for arranging the event that offered the city dwellers an opportunity to celebrate a traditional Bengali festival.
A colourful procession was also brought out in the afternoon participated by cultural activists.