<i>Fire of hell is hotter</i>
Madrasa teacher demonstrates lesson of hell to 14 girls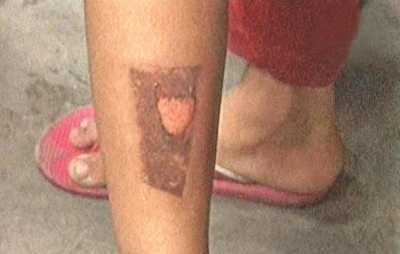 A teacher of a girls' madrasa on Tuesday seared legs of 14 students with a hot spatula in her punitive attempt to make them feel the "agony of fire in hell".
The girls, aged between eight and 12, underwent the hellish experience as they were "irregular" in their prayers. They are students of Talimul Quran Mahila Madrasa at Namashyampur in the capital's Kadamtali area.
The victims received treatment at local clinics for the injuries on their left legs.
Teacher Jesmin Akhter went into hiding after father of a victim had filed a case, said Sub-inspector Shaker Mohammad Jubair of Kadamtali police.
Abdul Jalil, father of victim Jannatul Ferdous, 8, told The Daily Star that after a 10-day holiday the madrasa reopened on Tuesday and his daughter attended the class at 8:00am.
Informed by another guardian, he rushed to the institution around 1:30pm and met a gathering of protesting locals.
Jalil quoting his daughter said Jesmin inflicted burns on the 14 students at around 8:30am for not being "regular" in offering their prayers during the vacation.
During her act of "punishment" Jesmin was quoted as asking the victims if they knew the severity of the fire in hell. If they didn't say their prayers regularly, they would experience such torment in hell, she added.
Jalil said the teacher kept her spatula on a burning gas oven adjacent to the classroom and each time burned the legs of three students.
The madrasa is housed on the first floor of a two storey building. Of the four rooms in the flat, the teacher lives in one room with her family while one room is used as the office and the rest for classes. Students attend their classes here sitting on the floor.
Jesmin also forced the wounded students to continue with the classes untill 1:15pm when mother of a student went to the madrasa with meal for her daughter, police said.
Agitating locals immediately besieged the madrasa, but police intervened and brought the situation under control, said SI Jubair.
Neither guardians nor the police could confirm immediately whether the madrasa is approved by the government.