Samdani Art Awards announced
Dhaka Art Summit ends on a high note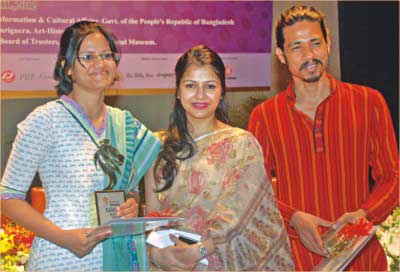 The closing ceremony of the 1st edition of Dhaka Art Summit was held on April 15 at the Main Auditorium, Bangladesh National Museum (BNM). Information and Cultural Affairs Minister Abul Kalam Azad was present as chief guest. Eminent art historian of France, Gerard Xuriguera, was present as the special guest on the occasion. Azijur Rahman, chairman, Board of Trustees, BNM, presided over the programme.
Prokash Chandra Das, director general, BNM, delivered the welcome speech. Artist Shahabuddin Ahmed, chairman of trustee board (Samdani Art Foundation) and Nadia Samdani, chief executive officer of Samdani Art Foundation, among others, spoke on the closing day.
Samdani Art Awards were announced at the programme.
Samdani Artist Development Award was conferred on Khaled Hasan for his outstanding photographs. He received Taka 10 lakh and a crest. Samdani Young Talent Award was conferred on Musrat Reazi for her oil painting. She received Taka 5 lakh and a crest. Samdani Art Foundation will also arrange a six month-long residency programme, where the artists will get an individual studio and required materials to work with.
Khaled Hasan was born in 1981. He graduated from the South Asian Media Academy and Institute of Photography (Pathshala). He has received a number of awards for his work. He is now working as a documentary photographer.
Musrat Reazi was born in 1985. She has completed her BFA in Drawing and Painting, from Government Art College, Chittagong. She has won 18th National Art Exhibition Award (AB Bank Award) and some other awards. She is now working as an art teacher at Khagrachhari Government High School.