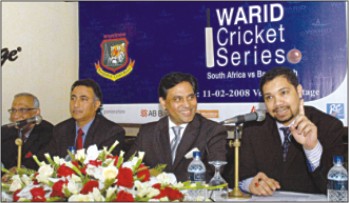 Another cellular company got involved with cricket when Warid Telecom was named as the title sponsor for the Bangladesh-South Africa Test and one-day series.
Warid bought the right from Axiom Technologies which won the sponsorship right from Bangladesh Cricket Board (BCB) as the highest bidder to sponsor the two-match Test and three-match one-day series.
Warid joins fellow mobile phone operators Grameenphone, Aktel and Citycell in becoming a partner of BCB for sponsorship.
It was officially announced during a press conference at a local hotel yesterday.
"This is for the first time that Warid Telecom is sponsoring a cricket series in Bangladesh and its association with the game will continue in days ahead," said Zeeshan Kingshuk Huq, senior marketing manager of the sponsors.
BCB accepted a much-lessened offer from their floor price for the sponsorship right under three packages.
"The amount was much less than our target but Axiom won the right as the highest bidder and bought all three packages," informed Zulfiqar Ahmed, BCB's commercial committee member.
The winning team of a Test match in 'Warid Telecom Series' will get a prize money of 2,500 dollars, man-of-the-match 1,500 dollars and man-of-the-series 2,500 dollars. For winning an ODI, a team will receive 2,500 dollars, man-of-the-match 1,000 dollars and man-of-the-series 2,000 dollars.
The first Test will start on February 22 at the Sher-e-Bangla National Cricket Stadium in Mirpur while the second Test will be held in Chittagong from February 29.
The first one-day match will be played on March 9 at Chittagong the second and third ODI will be held in Mirpur on March 12 and 14.
BCB's media committee's vice-chairman Ishtiaque Ahmed and Rizwan Bin Farouq, managing director of Riz Events, also spoke on the occasion.