Slum demolition puts hundreds in distress
Homeless Karail slum dwellers left in the open with no aid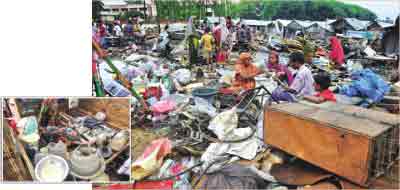 Evicted dwellers of Dhaka's T&T Beltoli and Karail slums have been living under the open sky with no food, water, power, or toilet facilities for the last three days.
Bulldozers flattened their homes on Wednesday during a drive to remove illegal structures from government land. Bangladesh Telecommunications Company Ltd (BTCL) along with Dhaka district administration carried out the eviction drive.
The evicted people claimed that a child died while two more went missing during the drive.
Yesterday's heavy downpour from morning until noon made the situation even worse for the displaced people.
"We are in dire distress…," said teenaged rag-picker Sabbir Hossain to The Daily Star correspondent as he was passing by the razed area of Beltoli slum near the satellite ground station of BTCL.
Shivering in the rain Sabbir said he had sent his parents and younger sister back to his village home Thursday after they lost their home.
A father and son were seen trying to stay dry under a torn piece of polythene sheet amid the rubble the bulldozers left behind. Broken bamboo poles and iron sheets of shattered shanties were all that remained there.
About 100 yards down the road Mokseda Begum was seen all drenched in rain and smeared in mud. She was putting her stuff on a rickshaw--nothing special only kitchen utensils and rags. She had her son and daughter with her.
"I am going to Gazipur to find a job and shelter there," said Mokseda.
Rag-picker Sabbir said a child of a domestic help died under the bulldozer. She had left the child home when she went to work, he said.
Md Dulal, a clothes trader at Beltoli intersection near T&T High School, said, "I saw the mother wailing and saying her child was in the shanty."
The neighbours said the mother left with the body and they could not know where she was going since they had been too busy dealing with their own ordeals.
Police had cordoned off the eviction area and restricted people's movement, they said.
MA Sobhan, president of a section of Karail Slum Development Committee, said he also heard about a child's death during the eviction drive and that two girls, Mili and Baishakhi, were missing.
"The authorities made nominal public announcements of the eviction drive Tuesday noon saying that they would just demolish shops within 10 feet of the satellite station road but they embarked on wholesale eviction of the slum dwellers the following day without rehabilitating them," he said.
The High Court in an order in 2008 asked the government to make arrangements for rehabilitation before evicting Karail slum dwellers.
In January, another High Court bench in a suo moto rule ordered the government to evict all illegal structures occupying the 170 acres of land of BTCL, PWD and the ministry of information technology.
Md Selim Hossain, executive magistrate of Dhaka district administration, who conducted Wednesday's drive, said they had carried out the eviction drive as per the High Court order.
"Nobody came up with court's stay order on eviction drive," he said, adding, "The January rule of the High Court stands valid until an appeal is filed against it."
NGOS' SAY
According to DSK-Shiree Project, an NGO working for slum dweller, over 2,000 structures including dwellings and shops were demolished on less than a day's notice by BTCL at Karail, Ershadnagar, Baidar Bostee, Beltola, and Jheelpar slums.
Informal primary schools, community based clinics and toilets have been crushed during the eviction.
Most of the evicted people lost their belongings during panic of the eviction drive. Many became victims of looting and some were physically harassed by law enforcement agencies and miscreants.
Sara Hossain, a High Court lawyer, said it is the duty of the government to rehabilitate slum dwellers before evicting them. "The way they have been evicted is completely inhuman," she said.
Sultana Kamal, eminent human rights activist and executive director of legal aid organisation Ain O Salish Kendra (ASK), said eviction without rehabilitation is undesirable. "Slums are not mere places, there are people and it is a matter of managing human lives," she said.
Even a formal notice is not enough to evict slum dwellers, she said, adding that the government has not taken initiatives for rehabilitation despite their request to do so time and again.
Abu Obaidur Rahman of ASK said following a petition filed by ASK and Bangladesh Legal Aid Trust in 2008, the High Court barred the government from evicting slum dwellers from 43-acre area of Public Works Department.
District administration carried out Wednesday's drive on 80-acre land of BTCL.
The court in January, however, ordered eviction of illegal structures on 170-acre area owned by three government organisations.
Obaidur said they were preparing to file an appeal against the order.