End traffic jam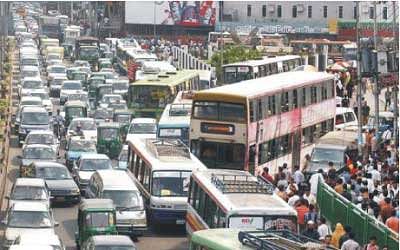 Is there anybody who can tell us when the traffic jam of Dhaka city will be over? Is there any planning -- short term or long term by RAJUK or by DCC or by any other authority? We the helpless dwellers of Dhaka city have been experiencing unbearable and excruciating pains, losing our valuable time and energy sitting idle inside the cars, buses, rickshaws for hours together. Serious patients are suffering in the ambulance for many hours to reach the hospitals. Traffic jams slow down our lifestyle and also impede the trade and commercial activities to a great extent.
We were expecting some solution from the government who won the election by two-third majority. But we don't see any visible solution, we only hear about solution to take place in the future in 2021! There are many lanes and by-lanes which are directly connected to the main roads especially the VIP roads (airport road).
If these lanes and by-lanes are expanded wherever possible enabling smooth movement of cars and rickshaws, that will definitely reduce traffic jams on the main roads to some extent.
We urge the authorities concerned to take immediate steps to minimise traffic jams in Dhaka and thus save 10 million people from regular suffering xaused by uncontrolled traffic jams.