Jamil's passing leaves vacuum in photojournalism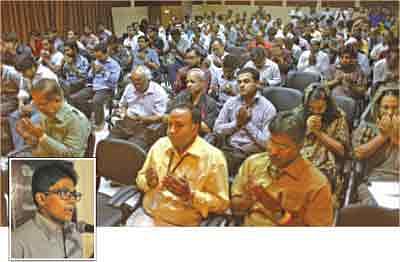 Shawkat Jamil Khan, a former photojournalist of The Daily Star, has left a vacuum in the arena of photography, as a few people having such talents, education, and modesty choose to have this career, friends and colleagues said at a memorial meeting yesterday.
The works Jamil had created in his three-decade career will keep him alive for a long time, they said.
Jamil passed away in the capital on March 13. He was 56.
Describing his death as a permanent loss, many junior photographers from different newspapers recalled how Shawkat Jamil had helped them in building their career in photography.
Abu Taher Khokan, chief photojournalist of the daily Bangladesh Protidin, said Jamil had inspired him and helped him a lot to survive in the profession.
Samsuddin Ahmed Charu, a photojournalist of the daily Ittefaq, described Shawkat Jamil as a simple lifer.
The Daily Star Editor and Publisher Mahfuz Anam recalled the contributions of Shawkat Jamil and attached great importance to the hard works of photojournalists in general.
Photojournalism is a tough job and Jamil did it with great sincerity and honesty, he said.
In the memories of Jamil and some other deceased photojournalists of reputation, Mahfuz Anam said The Daily Star wanted to introduce an annual photography award.
He also announced that the newspaper would bear the educational expenditure of Jamil's only child, Behag Jamil Khan, until he completed his "A" level education.
Urging every journalist to be more careful about their health, Mahfuz Anam said he was planning to introduce health check-up for his collogues every three months.
Sheikh Enam, chief photographer of The Daily Star, conducted the meeting at The Daily Star Centre, attended by family members, friends, colleagues, and his students.
Mir Ahmed Miru, ex-secretary of Photographers' Association and chief photographer of the Amar Desh, and Shahadat Parvez, senior photojournalist of the Prathom Alo, also spoke on the occasion.
Among The Daily Star staff, Executive Editor Syed Badrul Ahsan, Associate Editor Shah Hussain Imam, Chief News Editor (CNE) Syed Ashfaqul Haque, Deputy Editor (reporting) Sharier Khan, News Editor Reaz Ahmad, General Manager (production) Selim SH Chowdhury, and Culture Page Editor Sadya Afreen Mallick spoke at the meeting.
The meeting was followed by a doa mahfil.