Pranab due on May 5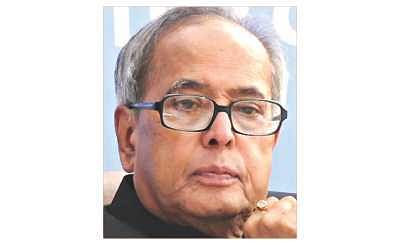 Indian Finance Minister Pranab Mukherjee will be coming to Dhaka on May 5 and Foreign Minister Dipu Moni will pay a return visit to New Delhi afterwards to review agreements and commitments made by Bangladesh and India since January 2010.
Pranab during his two-day visit is expected to convey to Bangladesh India's stance on fulfilling all bilateral agreements and decisions made since Prime Minister Sheikh Hasina's visit to India in January, 2010.
Dipu Moni, who confirmed the visit of Pranab, told reporters yesterday that all pending bilateral issues would be discussed during Pranab's visit to Dhaka.
She said during Pranab's visit, both the countries would also have discussions on the agreements signed during Sheikh Hasina's visit to India and Indian Prime Minister Manmohan Singh's Bangladesh visit in September last.
According to official sources, Pranab's visit will be mainly to attend the closing programme of the year-long Rabindranath Tagore's 150th birth anniversary celebrations.
They said officials were working out details of the programme schedule and agenda for discussion. Pranab is expected to call on Sheikh Hasina, have meetings with his Bangladeshi counterpart AMA Muhith and Dipu Moni.
Diplomatic sources said Pranab was coming to convey Bangladesh that India is hopeful of overcoming the political complexities that have clouded over the implementation of two key decisions, the Teesta river water-sharing agreement and ratification of the agreement on exchange of adversely possessed lands, enclaves and land boundary demarcation.
Meanwhile, talking to reporters after inauguration of a course for foreign ministry officials at the Foreign Service Academy yesterday, Dipu Moni said she would hold bilateral talks during her visit to New Delhi with Indian External Affairs Minister SM Krishna.
Responding to a question about the debate over renewal of river protocol with India, she said the government was considering the protocol in a greater framework for the region.
About arbitration on maritime boundary with India, she said bilateral negotiations could take place alongside the arbitration on the basis of principles set by the International Tribunal for the Laws of the Sea.